Twenty-One Tara Statues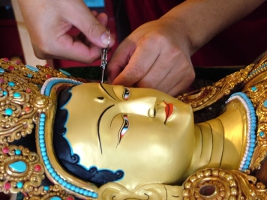 After a long period of fundraising, construction and delivery, towards the end of June 2010 the long awaited 21 Tara statues arrived from Nepal. The first mission was for them to be unpacked and checked. It was amazing to witness this event – as from the large crate boxes, bundles were removed and unpacked to reveal 21 precious statues of Tara. Our librarian, Tashi, worked closely with 2 of our resident monks, Old Lama Gyupa & Ven Jampa to carefully unpack and check each statue. Next, we gathered the mantras and blessed pills to fill each statue. The twenty 18″ Taras were then taken to the local Gyudmed monastery to be filled while the main Tara remained at Tushita.
We were incredibly fortunate that Lama Zopa Rinpoche was here with us at that time, remaining with us for 5 weeks from July 8th. During that time, Rinpoche guided every step of the process during the Tara preparation and all 21 Taras were filled with microfilm of the 4 Dharmakaya relic mantra.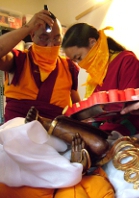 The preparations culminated in a series of extraordinary events on August 12th, the last day that Kyabje Lama Zopa Rinpoche was at Tushita. Dagri Rinpoche and Khandro la were invited to fill the main Tara (pictured right), then there was a Tara puja and consecration with Kyabje Lama Zopa Rinpoche, Dagri Rinpoche and Keutsang Rinpoche.
Kyabje Lama Zopa Rinpoche had kindly sponsored the divine dresses for all of the Taras. On entering the gompa that afternoon, Rinpoche took out a bag of pearls which had been recently offered to him in Hong Kong. The crowd looked on in disbelief as Lama Zopa and Dagri Rinpoches climbed up into the cabinets to personally offer the pearls (pictured left), then beautiful long white khatas to each Tara. All in all making these Taras incredibly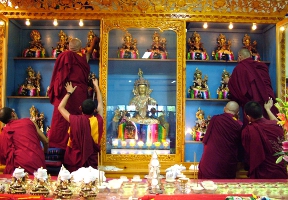 holy and auspicious, and a wonderful addition to Tushita's Main Gompa.
We were guided through the Lama Tsongkhapa Guru Yoga practice followed by consecration prayers. In Kyabje Lama Zopa Rinpoche's infinite kindness, we then returned to the gompa for the 4 Mandala Offering Tara Puja and extensive prayers which we completed sometime after 3am!
There were special dedications made for all the sponsors of the statues – each name was individually read out – and all those who had been involved in the project. So most heartfelt thanks to all the sponsors and helpers who have made this possible. We really appreciate your support.