Where are Tushita's Students from?
Between 2009 – 2014, we had students on our residential courses from 88 different countries!
Below left you'll see "Table A", a list of the top ten nationalities over that 6-year period, and a chart to the right showing these top ten nationalities (and the 78 others!) by percentage. Further down the page you'll find a tab that says "Click here", where you can see the full list of 88 – take a look and see if your country is represented. If not: come, we need you!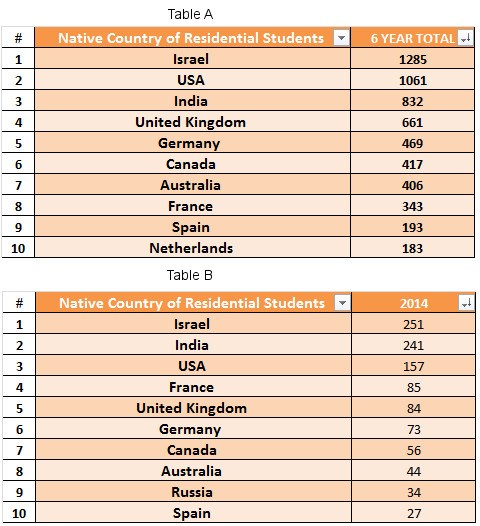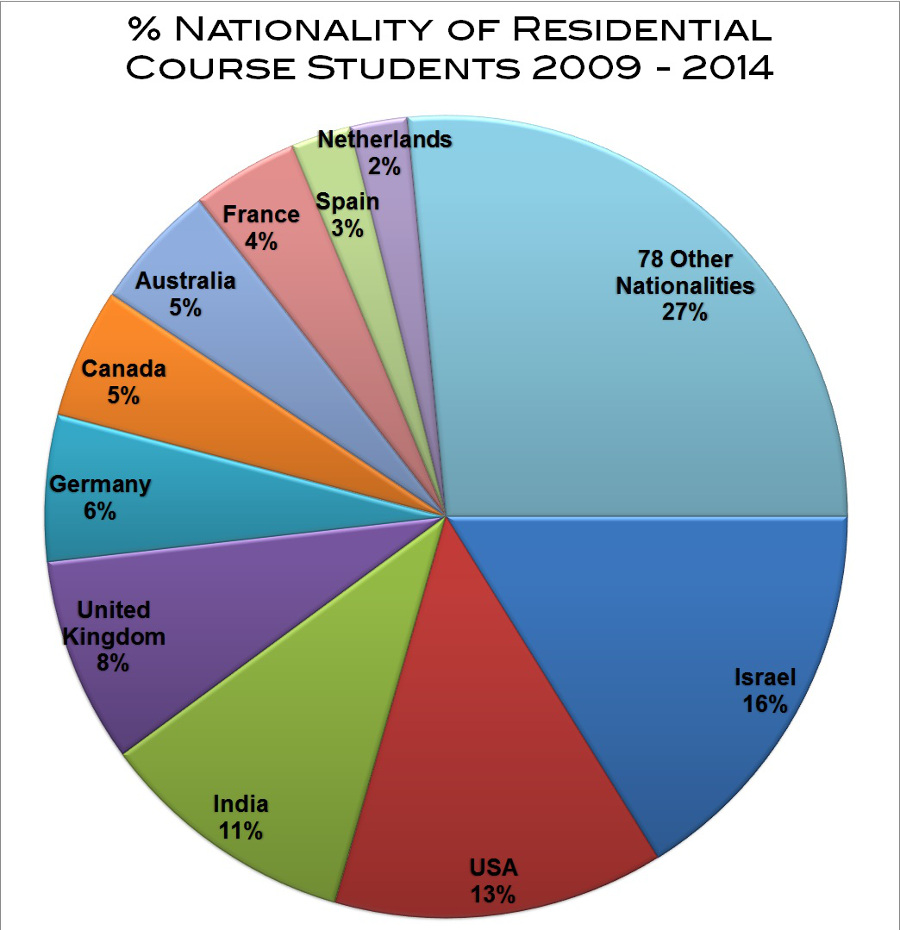 We have noticed some big shifts in national participation however, and on Table B above left you can see the top ten countries in 2014, with India now in very close second to Israel.
People are often surprised that we have so many Israeli students, but it is very common for young Israelis to travel to India after they have finished their National Service in the Army. These young Israeli citizens are often in a period of transition, seeking insight from alternative sources of wisdom, while not actually intending to adopt any fundamental changes in their own religious practices, belief or non-belief.
Therefore, Israelis have so far always been our biggest national group on Introduction to Buddhism courses, but very few continue onto Intermediate courses or retreats.
These courses see a much more even spread in Nationality (and age), and as you'll see in the chart to the right, India is now our biggest nationality in non-Introductory courses. And catching up fast on Introduction courses too!
Here's how that change has been happening – with India rising from the 6th most populous nationality in 2009, to the 2nd in 2014. The number of Indian citizens is rising so fast that it is easy to imagine that they will be our biggest nationality in 2015 and beyond. We rejoice – returning Buddha Dharma to the Motherland!
#
Native Country of Residential Students
6 YEAR TOTAL
1
Israel
1285
2
USA
1061
3
India
832
4
United Kingdom
661
5
Germany
469
6
Canada
417
7
Australia
406
8
France
343
9
Spain
193
10
Netherlands
183
11
Sweden
151
12
Austria
114
13
Switzerland
113
14
Brazil
109
15
Mexico
105
16
Ireland
103
17
Italy
96
18
Argentina
79
19
Russia
77
20
New Zealand
75
21
Denmark
72
22
Belgium
71
23
South Korea
66
24
Finland
64
25
Poland
62
26
Japan
51
27
Portugal
49
28
South Africa
46
29
Chile
46
30
Colombia
44
31
Taiwan
34
32
Czech Republic
31
33
Slovenia
29
34
Singapore
28
35
Turkey
27
36
Ukraine
26
37
Norway
25
38
Hungary
23
39
Slovakia
20
40
Estonia
20
41
Romania
19
42
China
19
43
Greece
19
44
Tibet
19
45
Vietnam
16
46
Indonesia
16
47
Malaysia
15
48
Latvia
11
49
Lithuania
10
50
Thailand
10
51
Mauritius
8
52
Bulgaria
7
53
Venezuela
7
54
Malta
7
55
Luxembourg
7
56
Belarus
5
57
Nepal
5
58
Peru
4
59
Cyprus
4
60
Ecuador
4
61
Iran
4
62
Egypt
3
63
Iceland
3
64
Morocco
3
65
Uruguay
3
66
Oman
2
67
Philippines
2
68
Georgia
2
69
Jamaica
2
70
Kyrgyzstan
2
71
Mongolia
2
72
Botswana
1
73
Cambodia
1
74
Guatemala
1
75
Jordan
1
76
Zimbabwe
1
77
Bhutan
1
78
Kalmykia
1
79
Lebanon
1
80
Myanmar
1
81
Nicaragua
1
82
Palestine
1
83
Panama
1
84
Saudi Arabia
1
85
Serbia
1
86
Sri Lanka
1
87
Syria
1
88
Uganda
1

TOTAL

7963
Answer: Our students are a very diverse group of people, in all the following ways: