Where are Tushita's Students from?
Between 2009 – 2015, we had students on our residential courses from 94 different countries!
In "Table A" you can see a list of the top ten nationalities over that 7-year period, and below a chart showing these top ten nationalities (and the 84 others!) by percentage.
If you would like to see the full list of 94 countries, please click here. See if your country is represented. If not: come, we need you!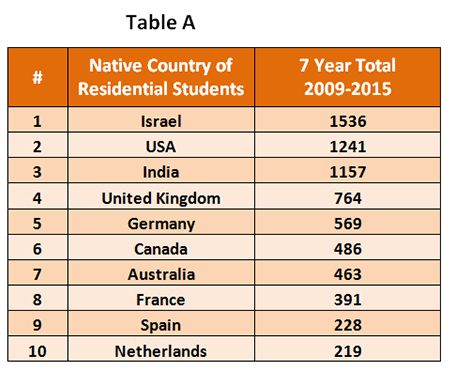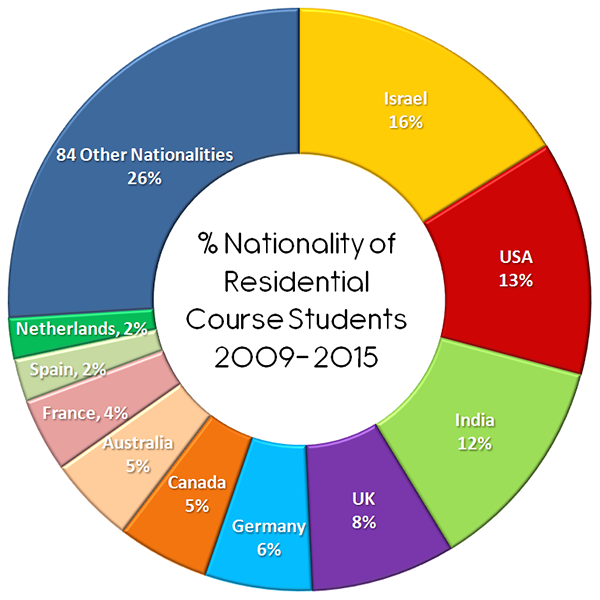 One of the most significant changes we've noticed over the past 7 years is the shift in national patterns of participation, primarily – The Rise of India!!!
In Table B you can see the top ten countries in 2015, with India having overtaken Israel to take the top position.
Participation among Indian citizens has increased more than 5 times in 7 years – from 60 students in 2009 to 325 students in 2015!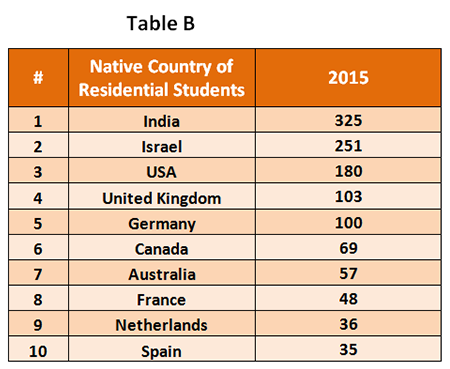 Here's how that change has been happening – with India rising from the 6th most populous nationality in 2009, to the 2nd in 2014 and to 1st in 2015.
We rejoice – returning Buddha Dharma to the Motherland!
Also for intermediate courses, which show a much more even spread in nationality (and age), India has now risen to our biggest nationality!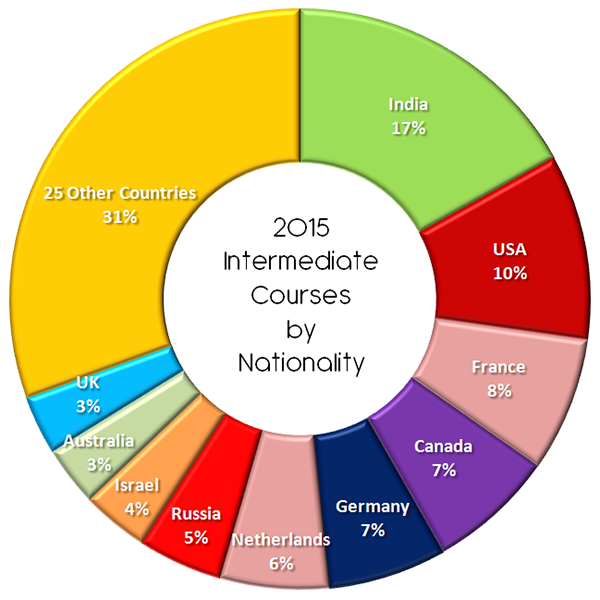 | | | | | | | | | | | |
| --- | --- | --- | --- | --- | --- | --- | --- | --- | --- | --- |
| # | Native Country | 2009 | 2010 | 2011 | 2012 | 2013 | 2014 | 2015 | 2009-15 | 2009-15 |
| 1 | Israel | 166 | 151 | 233 | 230 | 260 | 245 | 251 | 1536 | 16% |
| 2 | USA | 178 | 201 | 200 | 165 | 175 | 142 | 180 | 1241 | 13% |
| 3 | India | 60 | 94 | 106 | 142 | 202 | 228 | 325 | 1157 | 12% |
| 4 | United Kingdom | 129 | 103 | 145 | 103 | 100 | 81 | 103 | 764 | 8% |
| 5 | Germany | 82 | 79 | 73 | 85 | 79 | 71 | 100 | 569 | 6% |
| 6 | Canada | 59 | 95 | 67 | 73 | 69 | 54 | 69 | 486 | 5% |
| 7 | Australia | 81 | 74 | 81 | 77 | 49 | 44 | 57 | 463 | 5% |
| 8 | France | 25 | 44 | 68 | 63 | 67 | 76 | 48 | 391 | 4% |
| 9 | Spain | 25 | 35 | 33 | 35 | 38 | 27 | 35 | 228 | 2% |
| 10 | Netherlands | 40 | 24 | 32 | 42 | 22 | 23 | 36 | 219 | 2% |
| 11 | Sweden | 13 | 25 | 26 | 35 | 34 | 18 | 16 | 167 | 2% |
| 12 | Austria | 12 | 18 | 27 | 31 | 16 | 10 | 25 | 139 | 1% |
| 13 | Brazil | 10 | 18 | 15 | 25 | 15 | 26 | 24 | 133 | 1% |
| 14 | Switzerland | 15 | 26 | 14 | 28 | 15 | 15 | 8 | 121 | 1% |
| 15 | Italy | 14 | 16 | 14 | 17 | 22 | 13 | 23 | 119 | 1% |
| 16 | Mexico | 17 | 21 | 19 | 24 | 14 | 10 | 9 | 114 | 1% |
| 17 | Ireland | 19 | 16 | 22 | 16 | 14 | 15 | 10 | 112 | 1% |
| 18 | Russia | 7 | 2 | 7 | 9 | 26 | 26 | 26 | 103 | 1% |
| 19 | Argentina | 7 | 8 | 14 | 17 | 14 | 19 | 20 | 99 | 1% |
| 20 | Belgium | 11 | 9 | 9 | 17 | 9 | 16 | 18 | 89 | 1% |
| 21 | New Zealand | 18 | 20 | 12 | 6 | 11 | 8 | 11 | 86 | 1% |
| 22 | Denmark | 15 | 10 | 16 | 13 | 10 | 8 | 7 | 79 | 1% |
| 23 | Finland | 14 | 6 | 18 | 9 | 11 | 6 | 9 | 73 | 1% |
| 24 | Poland | 6 | 9 | 9 | 9 | 10 | 19 | 11 | 73 | 1% |
| 25 | South Korea | 9 | 7 | 12 | 20 | 12 | 6 | 3 | 69 | 1% |
| 26 | South Africa | 9 | 4 | 5 | 7 | 12 | 9 | 14 | 60 | 1% |
| 27 | Chile | 1 | 10 | 12 | 3 | 12 | 8 | 13 | 59 | 1% |
| 28 | Colombia | 2 | 8 | 7 | 7 | 7 | 13 | 13 | 57 | 1% |
| 29 | Japan | 11 | 6 | 11 | 8 | 11 | 4 | 5 | 56 | 1% |
| 30 | Portugal | 6 | 1 | 15 | 9 | 15 | 3 | 6 | 55 | 1% |
| 31 | Taiwan | 4 | 16 | 1 | 3 | 7 | 3 | 6 | 40 | 0.40% |
| 32 | Slovenia | 5 | 1 | 2 | 8 | 4 | 9 | 9 | 38 | 0.40% |
| 33 | Czech Republic | 4 | 2 | 7 | 6 | 5 | 7 | 3 | 34 | 0.40% |
| 34 | Singapore | 2 | 10 | 7 | 7 | 1 | 1 | 7 | 35 | 0.40% |
| 35 | Turkey | 3 | 6 | 5 | 5 | 2 | 6 | 5 | 32 | 0.30% |
| 36 | Norway | 2 | 5 | 2 | 8 | 6 | 2 | 3 | 28 | 0.30% |
| 37 | Ukraine | 2 | 5 | 3 | 3 | 6 | 7 | 2 | 28 | 0.30% |
| 38 | Hungary | 2 | 6 | 2 | 3 | 4 | 6 | 3 | 26 | 0.30% |
| 39 | Romania | 1 | 3 | 2 | 2 | 5 | 6 | 5 | 24 | 0.30% |
| 40 | China | 1 | 2 | 3 | 4 | 5 | 4 | 4 | 23 | 0.20% |
| 41 | Slovakia | 3 | 7 | 5 | 0 | 0 | 5 | 3 | 23 | 0.20% |
| 42 | Greece | 5 | 4 | 1 | 3 | 1 | 5 | 3 | 22 | 0.20% |
| 43 | Estonia | 5 | 1 | 10 | 2 | 1 | 1 | 2 | 22 | 0.20% |
| 44 | Tibet | 3 | 5 | 4 | 0 | 6 | 1 | 2 | 21 | 0.20% |
| 45 | Malaysia | 1 | 8 | 1 | 4 | 0 | 1 | 3 | 18 | 0.20% |
| 46 | Indonesia | 0 | 5 | 10 | 0 | 0 | 1 | 1 | 17 | 0.20% |
| 47 | Vietnam | 6 | 0 | 1 | 3 | 3 | 3 | 0 | 16 | 0.20% |
| 48 | Thailand | 0 | 1 | 5 | 0 | 2 | 2 | 6 | 16 | 0.20% |
| 49 | Lithuania | 1 | 0 | 2 | 5 | 0 | 2 | 4 | 14 | 0.10% |
| 50 | Latvia | 1 | 1 | 5 | 2 | 1 | 1 | 0 | 11 | 0.10% |
| 51 | Bulgaria | 0 | 0 | 2 | 0 | 3 | 2 | 3 | 10 | 0.10% |
| 52 | Mauritius | 0 | 2 | 1 | 1 | 1 | 3 | 1 | 9 | 0.10% |
| 53 | Malta | 1 | 0 | 2 | 1 | 1 | 2 | 1 | 8 | 0.10% |
| 54 | Belarus | 0 | 0 | 1 | 1 | 2 | 1 | 2 | 7 | 0.10% |
| 55 | Luxembourg | 4 | 0 | 1 | 2 | 0 | 0 | 0 | 7 | 0.10% |
| 56 | Venezuela | 1 | 1 | 1 | 1 | 0 | 3 | 0 | 7 | 0.10% |
| 57 | Iran | 0 | 1 | 3 | 0 | 0 | 0 | 2 | 6 | 0.10% |
| 58 | Ecuador | 0 | 0 | 1 | 3 | 0 | 0 | 1 | 5 | 0.10% |
| 59 | Nepal | 1 | 1 | 0 | 2 | 1 | 0 | 0 | 5 | 0.10% |
| 60 | Peru | 0 | 2 | 0 | 1 | 0 | 1 | 1 | 5 | 0.10% |
| 61 | Egypt | 0 | 0 | 0 | 1 | 0 | 2 | 1 | 4 | 0.00% |
| 62 | Cyprus | 0 | 3 | 0 | 0 | 1 | 0 | 0 | 4 | 0.04% |
| 63 | Philippines | 0 | 0 | 1 | 0 | 0 | 1 | 2 | 4 | 0.04% |
| 64 | Iceland | 0 | 1 | 0 | 1 | 0 | 1 | 0 | 3 | 0.03% |
| 65 | Morocco | 0 | 1 | 0 | 0 | 1 | 1 | 0 | 3 | 0.03% |
| 66 | Uruguay | 0 | 1 | 0 | 0 | 1 | 1 | 0 | 3 | 0.03% |
| 67 | Georgia | 1 | 0 | 1 | 0 | 0 | 0 | 0 | 2 | 0.02% |
| 68 | Guatemala | 0 | 0 | 0 | 0 | 0 | 1 | 1 | 2 | 0.02% |
| 69 | Jamaica | 0 | 0 | 2 | 0 | 0 | 0 | 0 | 2 | 0.02% |
| 70 | Jordan | 0 | 0 | 0 | 0 | 0 | 1 | 1 | 2 | 0.02% |
| 71 | Kyrgyzstan | 0 | 0 | 1 | 1 | 0 | 0 | 0 | 2 | 0.02% |
| 72 | Mongolia | 0 | 0 | 0 | 0 | 2 | 0 | 0 | 2 | 0.02% |
| 73 | Oman | 0 | 0 | 0 | 1 | 1 | 0 | 0 | 2 | 0.02% |
| 74 | Botswana | 0 | 0 | 0 | 0 | 0 | 1 | 1 | 2 | 0.02% |
| 75 | Kalmykia | 1 | 0 | 0 | 0 | 0 | 0 | 0 | 1 | 0.01% |
| 76 | Palestine | 1 | 0 | 0 | 0 | 0 | 0 | 0 | 1 | 0.01% |
| 77 | Bhutan | 0 | 1 | 0 | 0 | 0 | 0 | 0 | 1 | 0.01% |
| 78 | Uganda | 0 | 1 | 0 | 0 | 0 | 0 | 0 | 1 | 0.01% |
| 79 | Myanmar | 0 | 0 | 1 | 0 | 0 | 0 | 0 | 1 | 0.01% |
| 80 | Panama | 0 | 0 | 1 | 0 | 0 | 0 | 0 | 1 | 0.01% |
| 81 | Saudi Arabia | 0 | 0 | 1 | 0 | 0 | 0 | 0 | 1 | 0.01% |
| 82 | Serbia | 0 | 0 | 1 | 0 | 0 | 0 | 0 | 1 | 0.01% |
| 83 | Sri Lanka | 0 | 0 | 1 | 0 | 0 | 0 | 0 | 1 | 0.01% |
| 84 | Syria | 0 | 0 | 1 | 0 | 0 | 0 | 0 | 1 | 0.01% |
| 85 | Lebanon | 0 | 0 | 0 | 1 | 0 | 0 | 0 | 1 | 0.01% |
| 86 | Nicaragua | 0 | 0 | 0 | 1 | 0 | 0 | 0 | 1 | 0.01% |
| 87 | Cambodia | 0 | 0 | 0 | 0 | 0 | 1 | 0 | 1 | 0.01% |
| 88 | Zimbabwe | 0 | 0 | 0 | 0 | 0 | 1 | 0 | 1 | 0.01% |
| 89 | Algeria | 0 | 0 | 0 | 0 | 0 | 1 | 0 | 1 | 0.01% |
| 90 | Costa Rica * | 0 | 0 | 0 | 0 | 0 | 0 | 1 | 1 | 0.01% |
| 91 | Kazakhstan * | 0 | 0 | 0 | 0 | 0 | 0 | 1 | 1 | 0.01% |
| 92 | Moldova * | 0 | 0 | 0 | 0 | 0 | 0 | 1 | 1 | 0.01% |
| 93 | Yemen * | 0 | 0 | 0 | 0 | 0 | 0 | 1 | 1 | 0.01% |
| 94 | Croatia * | 0 | 0 | 0 | 0 | 0 | 0 | 1 | 1 | 0.01% |
| | | 1122 | 1243 | 1423 | 1411 | 1424 | 1340 | 1568 | 9531 | |
Our students are a very diverse group of people, in all the following ways: