Tushita and the FPMT's spiritual director Lama Zopa Rinpoche arrived at Tushita early in the morning of May 24th 2013 and stayed for a month, before leaving on the 19th of June for a short retreat in Manali. Rinpoche's visits are always intense and full of surprises, and we've kept an event-by-event diary of the activities that occurred in this period in residence, with links to the relevant facebook photo albums:
May 25: Saka Dawa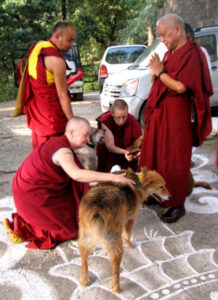 The day after Lama Zopa's arrival was Saka Dawa, the holiest day of the Tibetan calendar. Rinpoche began and ended his public appearances that day with attending to our animal friends. One of Rinpoche's first activities that day was… feeding our cheeky monkeys (health & safety message: do not attempt to recreate this activity: you need to be a trained professional…!). As he went out for an early evening walk after a day spent with Tushita's staff and volunteers, he gave extensive blessings in the form of mantras and head pats to our 3 dogs. They are pictured left with Lama Zopa, his attendant, our SPC Ven Kunphen and Assistant SPC Ven Pelza. You can read more about our dogs here.
In the afternoon of Saka Dawa, Lama Zopa called Tushita's local staff and volunteers together in the newly painted main Gompa to say thank you for our service – and to make offerings to us!
May 25 – 30: Inspecting the Gompa Painting Project
After the Saka Dawa talk, Rinpoche spent some time looking around the work done in phase 1 of ourGompa Painting Project, and in the following few days he spent a lot of time walking around the Gompa, to look at phase 2 of the project – work being done on the exterior of the Gompa building. He has spent a lot of time talking to Pema Dawa, the head of the Painting team, to further convey his vision for the building.
Tushita held a picnic for a wider mandala of local friends – long-time suppliers, contractors, students and supporters, on May 31st 2013. Around 100 people joined us for lunch and celebrations. Lama Zopa Rinpoche was both host and special guest at the proceedings, which included fantastic dances by performers from TIPA (Tibetan Institute for the Performing Arts).
May 31: Tushita's Community Picnic!
The picnic also held the world premiere of an important new motion picture – "Tushita's Gompa Painting Project – The Movie!". Two very talented Tushita students (Sini Haapalinna and Viktoriya Kovalenko) volunteered to make a short film about our Gompa Painting Project, and after lunch, friends gathered to watch the 13 minute film with Lama Zopa Rinpoche. It is beautifully made and was judged a success all round – Lama Zopa even suggested further projects for Sini & Vika! You can see the film for yourself here and you can see photos of the premiere here.
June 3: Guru Puja
We had an especially vibrant Tsog offering (a puja held twice-monthly at Tushita) in the company of Lama Zopa Rinpoche and Rangjung Neljorma Khadro Namsel Drolma [Khadro-la]
June 9: Movie Time
The 103 students on our June 6 – 15 2013 Introduction to Buddhism course (led by Ven Sarah) and the Intermediate level "Wisdom & Compassion" course (led by Glen Svensson) had an incredible series of experiences during their courses – starting with movie time with Lama Zopa and Khadro-la! Lama Zopa invited everyone to gather together in the main Gompa to watch the movie "Mystic Tibet" with him!
June 10 – 14: 5 evenings in a row of extensive teachings from Lama Zopa Rinpoche!
On the 10th, 11th, 12th, 13th, & 14th of June, Rinpoche gathered the 103 students from the 2 courses together in the main Gompa to teach for 3, 4, 5 or more hours each time! During these teachings, Lama Zopa Rinpoche also gave the oral transmission of the Vajra Cutter Sutra as well as a new morning meditation practice that he put together and translated.
June 15: Checkout day for 2 courses
Normally we have a picnic in the garden for checkout day, but heavy pre-monsoon rain kept us indoors. Lama Zopa and special guest Khadro-la invited all students to join him for lunch in the main Gompa (first time as an eating place!) and used the opportunity to give special thanks to Tushita staff and teachers. Rinpoche spent about half an hour praising our fabulous kitchen staff and thanking them for their hard work. Rinpoche commented that sometimes when the course subjects are difficult for the new students, having good food helps them to digest it all more easily!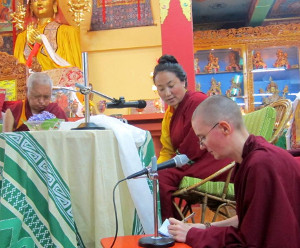 Our cooks Chunno, Sitander, Tenzin, Jigme and volunteer kitchen manager John recieved kata and offerings, as did our teachers Ven Sarah, Glen Svensson & David Marks, and meditation leaders Richard & Jonas, who were all given high praise and thanks for their immeasurably valuable service.
Lama Zopa then taught for some time and requested Khadro-la to do the same – and this time she did! She spoke to us for about 20 minutes about the Dharma path, and was translated into English by the amazing and Geshe Kelsang Wangmo from the Institute of Buddhist Dialectics (pictured right). Rinpoche then gave a teaching on guru devotion for the new people with quotes and transmission of "Calling the Guru from Afar."
June 18: Lunch on the roof and Guru Puja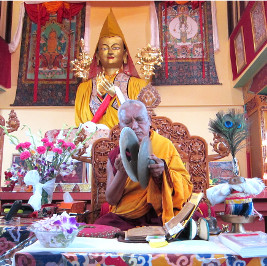 Lama Zopa set up a meeting with Tushita's staff and management, particularly wanting people to express their ideas about the center and how things could be improved. Tushita has been thriving, but this success has been stretching both the infrastructure and the endurance of staff and volunteers. Rinpoche was keen to find out what Tushita needed and during the five-hour lunch Rinpoche offered us lots of valuable advice on both practice and practical solutions to aid our sustainability.
That night, Rinpoche led Lama Chöpa Jorchö (Guru Puja), which started at 8:30pm and finished around 12:30am. Rinpoche played the cymbals through the puja (pictured left) but explained it was still difficult to play the damaru (hand drum), due to having had a stroke in April 2011.
Lama Zopa and his attendants left Tushita on the 19th of June, so that Rinpoche could have a quiet personal retreat in Manali, which is about 10 hours drive from here. He is expected to return to Tushita soon, so watch this space!
Upcoming Events
Guided Meditation on February 12, 2018 9:30 am
Movie Day on February 12, 2018 2:00 pm
Losar on February 16, 2018
Sutra of Golden Light Reading on February 16, 2018
Introduction to Buddhism on February 20, 2018
Chotrul Duchen on March 2, 2018
Medicine Buddha Puja on March 2, 2018
Introduction to Buddhism on March 8, 2018
The Buddhist Path to Healing: The Medicine Buddha Retreat on March 9, 2018
Guru Puja on March 11, 2018 6:30 pm
About Tushita
Tushita is a centre for the study and practice of Buddhism from the Tibetan Mahayana tradition. We're located in Northern India, in the forested hills above the town of McLeod Ganj, Dharamsala - the seat in exile of His Holiness the 14th Dalai Lama.
Tushita aims to provide a friendly and conducive environment for people of all nationalities and backgrounds to learn about and put into practice the teachings of the Buddha. With this in mind we offer regular drop-in events and courses on introductory Buddhist philosophy and meditation, as well as intermediate level courses and group retreats for more experienced students.
Opening Hours
February to November
Monday - Saturday
9:30 - 11:30am
a break for lunch and then...
12:30 - 4:00pm
Closed Sundays