We were very sad to learn that Venerable Lobsang Namdrol, the longest-term resident of our monastic community, passed away on January 13th 2013 at Drepung Monastery, Karnataka State, South India. He was 85 years old and had been in good health right up until his peaceful departure from this life.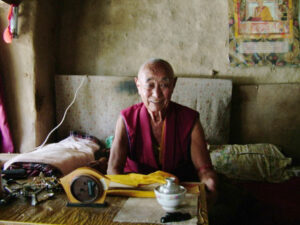 Ven Namdrol received his initial monastic training at Drepung Monastery in Tibet, and after his escape in 1959, he maintained a close relationship with the restablished Monastery-in-exile in Karnataka and spent most winters there with old friends and family members. This year, Ven Namdrol had also been resident there to attend His Holiness the Dalai Lama's teachings at Drepung from 30 November – 13 December 2012. Unfortunately, due to his regular absence during the winter break and his family at Drepung taking care of his funeral, we didn't come to know of Venerable Namdrol's death for several weeks. However, subsequent communication with a family member has given us more background information, and a strong sense that Venerable Namdrol was very much in control of the situation…
Venerable Namdrol's relative related the following to our Director, Linda: "On the afternoon of his passing away, he unusually sat outside of the khamsten where he was staying at the monastery over the winter, talking with the younger monks and joking that he was 85 years old and still had a good healthy body. In the middle of the afternoon, he went inside. When his young attendant went to check on him, Gen Namdrol-la was packing up his things as if he was ready to go and he mentioned that he had a pain in his side. An hour later Gen Namdrol passed away very peacefully in his room."
Venerable Namdrol had been the subject of an article about members of our community entitled "Our Mandala" in our Autumn/Winter 2012 Newsletter. The volunteer who interviewed Venerable Namdrol for this article remembers "A day or two after our interview, I met Ven Namdrol outside the office, where he had clearly been waiting for me to arrive. He seemed worried and told a Tibetan member of staff to ask me to bring Pema, the translator for our interview, back to his house to talk again, because he had made a mistake and was concerned in case I printed the wrong information. Pema and I went back to his small hut the next day and it turned out that the mistake he'd made was that he had initially said that he had spent about four months in retreat in the 1970s, but had since remembered that it had only been three. He was worried that he might have mis-represented his retreat experience and made himself appear to be a better practitioner than he really was. I was very moved by this and have thought of it often since; it was such a small error, made without any negative intention, and Ven Namdrol's determination to correct it demonstrated such humility and integrity that I came to understand that he was indeed a very high level practitioner of the most authentic Dharma path."
Upcoming Events
Guided Meditation on February 12, 2018 9:30 am
Movie Day on February 12, 2018 2:00 pm
Losar on February 16, 2018
Sutra of Golden Light Reading on February 16, 2018
Introduction to Buddhism on February 20, 2018
Chotrul Duchen on March 2, 2018
Medicine Buddha Puja on March 2, 2018
Introduction to Buddhism on March 8, 2018
The Buddhist Path to Healing: The Medicine Buddha Retreat on March 9, 2018
Guru Puja on March 11, 2018 6:30 pm
About Tushita
Tushita is a centre for the study and practice of Buddhism from the Tibetan Mahayana tradition. We're located in Northern India, in the forested hills above the town of McLeod Ganj, Dharamsala - the seat in exile of His Holiness the 14th Dalai Lama.
Tushita aims to provide a friendly and conducive environment for people of all nationalities and backgrounds to learn about and put into practice the teachings of the Buddha. With this in mind we offer regular drop-in events and courses on introductory Buddhist philosophy and meditation, as well as intermediate level courses and group retreats for more experienced students.
Opening Hours
February to November
Monday - Saturday
9:30 - 11:30am
a break for lunch and then...
12:30 - 4:00pm
Closed Sundays