Saka Dawa is one of the most important festival days of the Tibetan Buddhist calendar – celebrating Shakyamuni Buddha's birth, enlightenment and parinirvana!
This year Saka Dawa fell on Friday June 13th. To begin the day, we held a butterlamp light offering puja in with our resident "Old Lama Gyupa", Ven Thubten Dorjee, to make prayers and dedications for our centre, sponsors and all sentient beings.
Later, many people joined us for a special program of open Drop-In Sessions, like this:
10:00 – 11:30am Guided Meditation & "What the Buddha Taught" – A Teaching by Glen Svensson. About 100 people joined this session with Glen, pictured above centre.
1-2pm Reading of Golden Light Sutra. The large group that gathered on the lawn by Lama Yeshe's Stupa to recite this Sutra together are pictured above left.

While this movie was showing, Tushita staff, volunteers and monastics used the auspicious day to refresh the statue boxes on Lama Yeshe's Stupa. The statues were offered new clothes, and we were able to finally install the Ratnasambhava statue that we had made in Nepal, to replace one that was stolen from the Stupa a year or so ago. Ven Thubten Dorjee is pictured above right, assisting and guiding this project.
The program of Saka Dawa events continued with:
While 15 hardcore Buddhist Practitioners joined our final (of 8) Nyung Nay fasting retreat, which ended on the morning of the 14th of June.
And remember! On Saka Dawa karmic results are multiplied by one hundred million times, so there was a a significant deposit in our merit account !!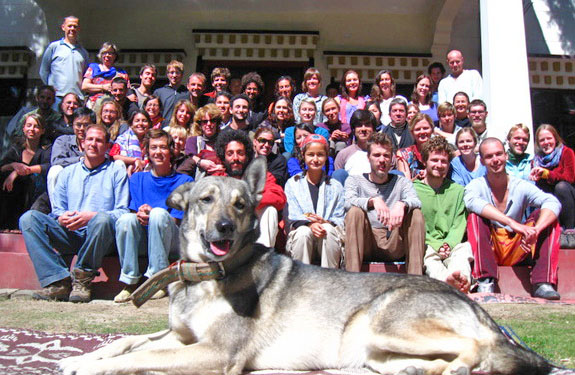 It was also our beloved dog Nying-je's 9th birthday!! Before being renamed Nying-je Chenmo (Great Compassion) by Lama Zopa Rinpoche, she was previously called Saka Dawa, after the auspicious day she turned up at Tushita on in 2005.
Then, she was a malnourished stray spitfire puppy, now she's now a well-fed, leisurely older woman, but still a very endearing character, much loved by all.
Here is one of our favourite photos of her, stealing the spotlight during a Introduction course photoshoot. Happy Birthday Nying-je!
You can see more photos from our Saka Dawa events on our facebook account here. Many thanks to everyone who joined us on this very special day.
Upcoming Events
Guided Meditation on February 22, 2018 9:30 am
Movie Day on February 23, 2018 2:00 pm
Chotrul Duchen on March 2, 2018
Medicine Buddha Puja on March 2, 2018
Introduction to Buddhism on March 8, 2018
The Buddhist Path to Healing: The Medicine Buddha Retreat on March 9, 2018
Guru Puja on March 11, 2018 6:30 pm
Introduction to Buddhism on March 26, 2018
Healing Disturbing Emotions on March 27, 2018
Introduction to Buddhism on April 11, 2018
About Tushita
Tushita is a centre for the study and practice of Buddhism from the Tibetan Mahayana tradition. We're located in Northern India, in the forested hills above the town of McLeod Ganj, Dharamsala - the seat in exile of His Holiness the 14th Dalai Lama.
Tushita aims to provide a friendly and conducive environment for people of all nationalities and backgrounds to learn about and put into practice the teachings of the Buddha. With this in mind we offer regular drop-in events and courses on introductory Buddhist philosophy and meditation, as well as intermediate level courses and group retreats for more experienced students.
Opening Hours
February to November
Monday - Saturday
9:30 - 11:30am
a break for lunch and then...
12:30 - 4:00pm
Closed Sundays