A report on the 2014 Pre-Ordination course by Ani Tenzin Paldron (Julie Thomas) on behalf of the 2014 participants
The 2014 Pre-Ordination course began during the auspicious period of the Tibetan New Year (Losar) on the evening of March 4th, 2014 at Tushita. 13 participants (8 women and 5 men) travelled from Argentina, Brazil, Canada, England, France, Germany, India, Israel, Italy, Mexico and the USA to the beautiful hilltop FPMT center overlooking McLeod Ganj to attend the course. The main purpose of the course was to learn about the monastic vows, the process of ordination and the way to live purely in the vows post-ordination. Monks and nuns in the past had experienced several difficulties with each of these aspects. Due to the kindness and vision of His Holiness the XIVth Dalai Lama (H.H.D.L), Lama Zopa Rinpoche and monastics such as Sister Jotika and Venerable Rita Riniker,  the necessity and importance of having a course like this was conceived.
Venerable Namdak, who has been studying for the past 17 years at Sera Jey Monastery towards earning his Geshe degree was designated the 2014 course leader. Due to his vast and in-depth knowledge of the Vinaya, his previous experience in leading this course, along with his familiarity with the various key figures involved in the ordination process the course proved to be very fruitful. It not only fulfilled the aforementioned objective but also provided a forum through which the participants received a thorough overview of Buddhism, an opportunity to share, reflect and dialogue on myriad topics about monastic life, to pray together around the holy stupas in the area and to offer pujas. Engaging in these activities engendered a sense of camaraderie and support among the participants, giving us a living model of how to live and work together as a harmonious and joyful sangha community.
The daily schedule began early in the morning with prayers and Lam Rim Meditations. Each participant lead a Meditation and we cycled through almost all of the Lam Rim topics during the 17 day course period. This provided us an invaluable opportunity to teach and to learn from each other. After breakfast we had Q & A sessions that helped clarify and deepen our understanding of various topics we were introduced to the previous afternoon by Geshe Tsering Choephel, a Geshe from HH the Dalai Lama's Namgyal Monastery (pictured above left with the group on Lama Yeshe's Stupa). Geshe-la, an outstanding teacher, gave us a very concise and precise overview of the main points of Buddhism with particular emphasis on deepening our understanding of refuge so that we had a strong basis for taking and keeping our vows purely. In addition he reviewed the entire list of vows for the getsuls and then for the gelongs with patience and good humor. We were also fortunate to receive practical teachings from Khadro-la and personal advice from Geshe Kelsang Wangmo, the first female Geshe. In the evenings we had another round of prayers and meditations and the day ended either with pujas (Tara, Medicine Buddha, Tsog and/or Light offerings around Lama Yeshe's stupa) or a review of the manual "Living a Monastic Life" compiled by Ven. Namdak. We also received several concise booklets about the vows and the ceremony of sojong which were very helpful.
The highlight of the course was receiving the ordination in a moving and inspiring ceremony from His Holiness the XIVth Dalai Lama at his palace in McLeod Ganj in front of an esteemed sangha. The Getsuls and Getsulmas received their ordination on March 15th (pictured below).  Due to the kindness of Ven. Namdak-la we were able to receive advice and blessings from three high lamas, namely Denmo Locho Rinpoche, Jhado Rinpoche and Dagri Rinpoche on the same day. On the next day, the Day of the Miracles, we rejoiced at the chance to attend teachings by H.H.D.L. The getsuls and getsulmas also participated in their first sojong that morning in the presence of H.H.D.L! The Gelongs (three of whom were from Nalanda Monastery in France) received their ordination at a later date on March 28th (pictured above right). We all felt particularly fortunate and joyful at receiving our ordination in light of the chaos and uncertainty that preceded it and not knowing until the very last moment as to whether it would be possible to receive the vows from H.H.D.L given his extremely busy and tight schedule.
On the last day of the retreat we were invited to a sumptuous luncheon by Venerable Sangmo, the Director of Thosamling, which is the only nunnery established for Western nuns, located in lower Dharamsala. Several of the getsulmas were planning on staying at Thomsamling after ordination. We also got a chance to make offerings at Norbulingka Institute and at Gyuto Monastery, the temporary residence of His Holiness the Karmapa.
The hardworking, hospitable and friendly staff of Tushita led by their fearless and good-humoured SPC, Ven. Kunphen-la, their 3 beautiful dogs and the resident monkeys who provided non-stop entertainment created the perfect backdrop for us to study and practice together. Moreover, the ever changing weather at Tushita, which ranged from freezing cold, torrential downpours and intense thunderstorms to beautiful, sunny days with stunning sunsets were also helpful in driving home the lessons of impermanence, patience and acceptance. We also feel deeply grateful to both Tushita and the International Mahayana Institute (IMI) for so kindly sponsoring some of the participants for the entire duration of the course.
In short, the 2014 Pre-ordination course far exceeded expectations in terms of what it provided the participants. We are very grateful for all that we received and we hope that such a course will help us maintain our ordination vows, to practice purely and to benefit many sentient beings. It would be wonderful if such courses were made available on a regular basis not only for aspiring monks and nuns but also for the monastic community to come together periodically to review and rejuvenate vows, to reflect and discuss concerns and challenges to help deepen, strengthen and support one and another as we walk this path to achieve enlightenment for the benefit of all sentient beings.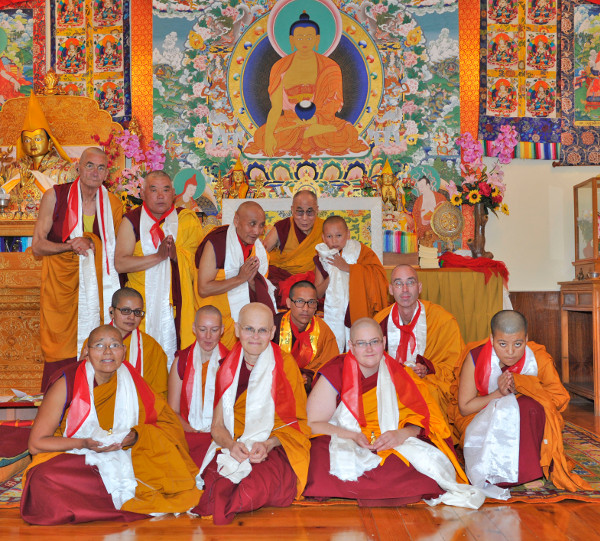 Upcoming Events
Movie Day on November 24, 2017 2:00 pm
Guided Meditation on November 25, 2017 9:30 am
Guru Puja on November 28, 2017 6:30 pm
Winter Break 2017-18 on December 1, 2017
Losar on February 16, 2018
Sutra of Golden Light Reading on February 16, 2018
Introduction to Buddhism on February 20, 2018
Chotrul Duchen on March 2, 2018
Medicine Buddha Puja on March 2, 2018
Introduction to Buddhism on March 8, 2018
About Tushita
Tushita is a centre for the study and practice of Buddhism from the Tibetan Mahayana tradition. We're located in Northern India, in the forested hills above the town of McLeod Ganj, Dharamsala - the seat in exile of His Holiness the 14th Dalai Lama.
Tushita aims to provide a friendly and conducive environment for people of all nationalities and backgrounds to learn about and put into practice the teachings of the Buddha. With this in mind we offer regular drop-in events and courses on introductory Buddhist philosophy and meditation, as well as intermediate level courses and group retreats for more experienced students.
Opening Hours
February to November
Monday - Saturday
9:30 - 11:30am
a break for lunch and then...
12:30 - 4:00pm
Closed Sundays