We only had "Great Compassion" until we adopted "Wisdom" in October 2012, and accepted "Happiness" into our lives in February 2013… And so now we have all three, more familiarly known by their Tibetan names: "Nying-je Chenmo", "Yeshe" and "Dekyi" – Tushita's canine sangha!
Nying-je has been our resident darling since she arrived as a battered and malnourished stray in 2005. Once a scrappy pup, she is now the elder stateswoman, and had been quite lethargic since the passing of her best friend Jangsem Kalu in October 2011. Having dogs in a silent retreat centre is always a tricky balance, so although we hoped to find her a new friend and fellow monkey-guard, we waited for the right dog to turn up and make itself indispensable.
Enter Yeshe, spotted by teacher Ondy Willson and Spiritual Program Co-ordinator Ven Kunphen during breaks in the autumn 2012 courses. Ondy reports: "Yeshe started life in a tar barrel with 5 other pup siblings and her Mum. Some people came and took the other pups because they were 'pretty'. So we watched Yeshe from the Himalaya Chai Shop, getting mangy and skinny and neglected, like so many dogs in India. Ven Kunphen gave her a home". Removing the tar cankers from her hair was the first job, and she was bathed many times (pictured below) – it really was almost a close shave!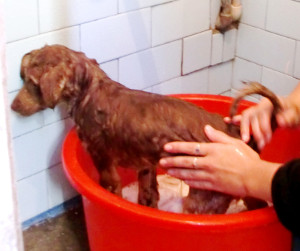 Months on, Yeshe is now healthy, beautiful and full of energy – we're so happy to see that her presence has revitalised Nying-je too.
They were joined by another friend early in 2013 – an abandoned shepharding dog of undetermined age and patient demeanour who arrived and made it known she planned to stay. She was named Dekyi (sometimes also referred to by her nick-name, a Star Wars character she has a strong physical and vocal similarity to…). She completes our doggy trinity.
In the photo above, Nying-je is the grey dog in the top right corne
Upcoming Events
Guided Meditation on September 21, 2019 9:00 am
Movie Day on September 23, 2019 2:00 pm
Guru Puja on September 24, 2019 6:30 pm
The Philosophy of the Middle Way on October 1, 2019
HH the Dalai Lama teaches locally! on October 3, 2019
Introduction to Buddhism on October 9, 2019
Buddhist Practices on October 10, 2019
Medicine Buddha Puja on October 13, 2019
Introduction to Buddhism on October 23, 2019
Gelug Tradition of Mahamudra – Fully Booked! on October 24, 2019
About Tushita
Tushita is a centre for the study and practice of Buddhism from the Tibetan Mahayana tradition. We're located in Northern India, in the forested hills above the town of McLeod Ganj, Dharamsala - the seat in exile of His Holiness the 14th Dalai Lama.
Tushita aims to provide a friendly and conducive environment for people of all nationalities and backgrounds to learn about and put into practice the teachings of the Buddha. With this in mind we offer regular drop-in events and courses on introductory Buddhist philosophy and meditation, as well as intermediate level courses and group retreats for more experienced students.
Opening Hours
February to November
Monday - Saturday
9:30 - 11:30am
a break for lunch and then...
12:30 - 4:00pm
Closed Sundays