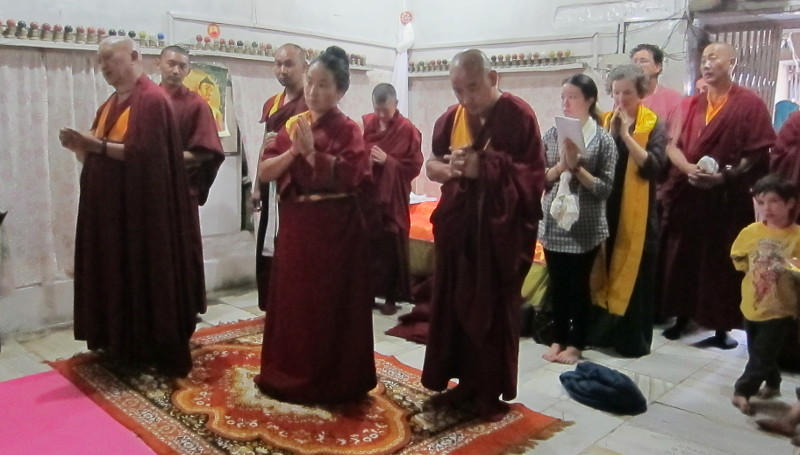 When Lama Zopa Rinpoche left Tushita on the 19th of June 2013, he travelled to Triloknath, a small village near Mandi, in the Lahaul district of Himachal Pradesh. Triloknath is also known as Garsha Khandroling, "Land of the Dakinis.", and has an ancient temple that houses a self-emanating statue of Chenrezig. Lama Zopa, along with Khadro-la and Serkong Tsenshab Rinpoche, spent some time there in retreat, which you can read more about on the FPMT Mandala Magazine site here.
Our busy calendar of events proceeded as normal for during the following month or so, and then in August, Tushita volunteers were told by Lama Zopa Rinpoche to close up shop and come on pilgrimage with him! Tushita was closed for almost 2 weeks, while our office, housekeeping and meditation-leading volunteers made the thrilling mountain journey to Triloknath in the company of these holy beings (and safe in the hands of our driver Vinod!). Some photos from that amazing trip can be seen on our facebook page here.
Upcoming Events
Guided Meditation on May 29, 2017 9:30 am
Movie Day on May 29, 2017 2:00 pm
Guru Puja on June 4, 2017 6:30 pm
HH the Dalai Lama public teaching on June 5, 2017 6:30 am
Saka Dawa on June 9, 2017
Medicine Buddha Puja on June 9, 2017
The Two Truths on June 14, 2017
Introduction to Buddhism on June 15, 2017
Vajrasattva Retreat on June 26, 2017
Mind and Reality on July 4, 2017
About Tushita
Tushita is a centre for the study and practice of Buddhism from the Tibetan Mahayana tradition. We're located in Northern India, in the forested hills above the town of McLeod Ganj, Dharamsala - the seat in exile of His Holiness the 14th Dalai Lama.
Tushita aims to provide a friendly and conducive environment for people of all nationalities and backgrounds to learn about and put into practice the teachings of the Buddha. With this in mind we offer regular drop-in events and courses on introductory Buddhist philosophy and meditation, as well as intermediate level courses and group retreats for more experienced students.
Opening Hours
February to November
Monday - Saturday
9:30 - 11:30am
a break for lunch and then...
12:30 - 4:00pm
Closed Sundays