Tushita's News July 2019
Our 2019 season started extra early on February 5th to coincide with the Tibetan New Year and the auspicious Days of Miracles. Making the best of some serious snowstorms and powercuts we didn't have to wait long for the miracles to happen!
To our great delight we welcomed our Spiritual Director Kyabje Lama Zopa Rinpoche for 10 days as well as one of those brave students in our first introductory course representing the 100th nation at Tushita! Abdulwahab Alhaji joined us all the way from Kuwait in the middle of winter! We are so excited to have reached this momentous accomplishment and rejoice deeply in what it represents – the Dharma reaching the far corners of the planet.
We are now aiming to reach the auspicious number of 108 nations at Tushita since we began keeping records 10 years ago. To learn about our fascinating student statistics from the last 10 years see our 2018 Annual Statistics (NOTE: not just for nerds).
We rejoice being in the presence of the Guru, and that we have been able to share this Dharma lineage with people from more than half the countries on the planet. Wow wow wow wow wow.
Lama Zopa Rinpoche arrived at Tushita after midnight on Feb 18th, the last day of our first Introduction to Buddhism course of the year. Beautiful snowflakes began to fall as Rinpoche greeted the shivering and excited crowd, seemingly blessing the land and the fortunate students who waited in the dark to warmly welcome Rinpoche.
The following day we celebrated the Day of Miracles and His Holiness the Dalai Lama began five days of teachings at His temple in McLeod Ganj. These were the first of three sets of public teachings by His Holiness in the first half of 2019 – how very fortunate we are!
On Feb 25th Lama Zopa Rinpoche offered a Long Life Puja for Khyongla Rato Rinpoche at Tushita. This was an incredibly special day in which we welcomed many lamas, geshes and sangha in attendance. We pray that Khyongla Rato Rinpoche and all our precious gurus have a long and stable life, connecting many hearts and minds with the Dharma. May all their holy wishes be fulfilled instantly!

Still dazzled by so many blessings, we started another introductory course and an intermediate course the following two days.  Straight after their arrival these lucky students (joined by the participants of our Pre-Ordination Course and many visitors), were extremely fortunate to receive two afternoons of precious teachings from Lama Zopa Rinpoche on emptiness and guru devotion.
Rinpoche even made time to meet and give a teaching to all Tushita staff and volunteers before leaving Tushita in the morning of February 28th – showing us how to use every moment to benefit sentient beings. May we become just like you!! We eagerly await Rinpoche coming back very soon…
Our Special Guest Teachers
In addition to the blessings received through Lama Zopa Rinpoche's presence, teachings and countless activities, we were able to host several other special guest teachings for our residential students and guests. These began with Geshe Pema Dorjee teaching on "Bodhicitta and the Six Perfections" on March 21st. With his warm, infectious humor and deep understanding of the Dharma, Geshe la easily connected with the hearts of the students, helping to inspire Bodhicitta.
Just a few days later we welcomed Jetsunma Tenzin Palmo for two days of teachings on "Patience" from Shantideva's 
A Guide to the Bodhisattva's Way of Life
 (March 27 & 28). As usual, Jetsunma attracted a tightly packed gompa of very new and elder students. Her teachings cut right through, presenting the Dharma in a powerful and clear way. We rejoice in being able to facilitate these teachings meeting the ears of so many students.
We look forward to welcoming Jetsunma back to Tushita later this year to continue with the eighth chapter of Shantideva's famous text, fulfilling His Holiness' advice for Tushita students. Last year during one of His public teachings, His Holiness advised that Tushita students should study this essential text. (See the full video of His teaching and jump to minute 20:13 for His advice for Tushita's students.) We rejoice!!!
Jetsunma's teachings were also attended by many sangha members – so we took this rare opportunity to organize a very special Sangha Lunch with Jetsunma at the head to foster an atmosphere of community and sisterhood. The lunch was attended by 20 nuns and monks from different Buddhist and Tibetan Buddhist traditions from all over the world. After introducing ourselves, many shared their experiences and various difficulties especially for Western nuns, who often lack social, emotional and financial support. As always Jetsunma showed much empathy and offered very practical assistance, stemming from her extraordinary life and many decades as an ordained Western Buddhist nun.
Khyongla Rato Rinpoche, despite his busy schedule and advanced age, very kindly returned to Tushita on April 7th before leaving to his home in the US. Rinpoche gave teachings on "Bodhicitta: The Mind of Enlightenment" with his long time student Simon Houlton interpreting. This special event was attended by our 130 residential students from our introductory course & intermediate course on "Developing a Fearless Heart" and outside guests. All present were hugely inspired by Rinpoche's Bodhisattva-like qualities of a brave heart, deep humility and quick humour. How fortunate we are to have these real life examples of amazing practitioners around to show us where the Dharma path is leading and that it's really possible!
Towards the end of the event our Tushita canine matron Nyinje snuck into the gompa to listen to the teachings. She circumambulated His Holiness' throne as well as Rinpoche, and enjoyed the attention of the amused audience before laying down right in front of Rinpoche. Rinpoche looked at her and to our great surprise and delight spoke of Nyinje having a calm mind and being so fortunate to live at Tushita and see so many holy objects.
Geshe Lhakdor joined us from the Library of Tibetan Works & Archives April 24 – 29 to offer an introductory-level course on "The 37 Practices of a Bodhisattva". This residential course was filled with 124 lively, engaged students from 29 different countries eager to explore what the ancient wisdom of Buddhism can offer to modern 21st century people. They couldn't have asked for a better teacher to meet the challenge! Geshe la with his vast experience in meeting and teaching people from many different backgrounds in India and abroad guided the students skillfully with his very practical approach and lots of humour.
For the fourth year in a row, Tushita hosted teachings by Yangten Rinpoche for a large group of Vietnamese Buddhists in the morning of May 19th. Rinpoche gave an introductory Dharma teaching to a packed gompa of mostly new students. A Vietnamese translation was provided for the almost 100 students from Vietnam, plus Geshe Kelsang Wangmo translated into English for our equally numbered introductory course students and a visiting American group. For the extremely fortunate Vietnamese students this preceded two days of private teachings by His Holiness the Dalai Lama at His temple in McLeod Ganj.
For the special wheel-turning day of Saka Dawa Duechen on June 17th, Serkong Tsenshab Rinpoche taught on "The Qualities of the Buddha" in Tibetan with English translation by Geshe Kelsang Wangmo. During Rinpoche's arrival an especially ferocious hail storm darkened the afternoon pre-monsoon sky – just to make way for beautiful sunshine again at the end of Rinpoche's visit. Very auspicious signs during this very auspicious day!!
Our Program
In the first five months of our 2019 season we held nine 10-day Introduction to Buddhism courses led by Venerables Lhundup Jamyang, Legtsok, our resident teacher Tenzin Drolma, and Lobsang Namgyel. In these courses we welcomed almost 800 students from 65 different countries, including someone from Kuwait who represents the 100th country from which we have had a student since we began keeping records. We deeply rejoice in being able to connect so many people from all over the world with the precious Dharma. We hope that these teachings will bring greater peace and enduring happiness to all.
See all of our Introductory course students with their teachers and meditation leaders below.
We rejoice in welcoming 239 students to our intermediate courses and group retreats, including an impressive 53 students who attended our annual advanced course with Geshe Kelsang Wangmo on "What is the Mind?". We are thrilled that so many students took advantage of this special opportunity to deepen their Dharma understanding with such a humble, accomplished, and accessible teacher.
Geshe Tenzin Namdak returned this year to again lead the Pre-Ordination Course in support of eight new western Sangha members.
Our other courses and retreats were led by Venerables Lhundup Jamyang, Drolma, Legtsok, Lobsang Namgyel, and Richard Meijers.
See all of our Intermediate & Advanced course and group retreat students with their teachers and meditation leaders below.
Our morning drop-in meditations have continued to be a success with the help of meditation leaders Maya and Felipe. We were extra pleased to welcome back David Marks for two months of extended drop-in sessions combining meditations and teachings on the lam rim.
Additional Happenings at Tushita
Changing of the Guard: Tushita warmly welcomes our first female Tibetan Director
Early in the season we said farewell to Acting Director Archhana Kombrabail, who has served Tushita for the last 2.5 years in this role (Nov 2016 – March 2019). We are grateful for all the energy, positive intentions, and beneficial actions she took on behalf of Tushita and all the students while here. Thank you so much, Archhana!
We are happy to welcome Pema Wangmo into the Director role. Pema first joined Tushita in February 2017 as our friendly and ever-so patient Receptionist. With her particular skills and temperament, Pema naturally transitioned to the role of Centre Manager in mid 2018 before being appointed by Lama Zopa Rinpoche as director. We are so grateful for Pema's dedication, hard work, and the kind heart she brings to the position.
Our Beloved Dog, Yeshe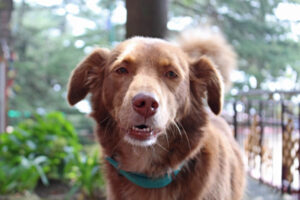 It is with a heavy heart that we relay the passing of our beloved dog, Yeshe, on 22nd May.
Our canine friends fulfill a very important job description at Tushita. Yeshe was our ever-so patient therapist with excellent listening skills for our students as they undertook their difficult inner work and also a loyal companion & best friend, delighting and supporting our staff and volunteers by keeping their blood pressure steady and taking them for regular walks.  
Many thousands of people have benefited from Yeshe's love and shared a hug over her years at Tushita. Not only did she excel at offering support and affection to others, she also graciously accepted the many different ways of attention offered by our numerous students. It was a common Tushita picture having students competing over giving her massage and cuddles. Sometimes 6 at a time – massaging her head, tale & 4 legs!!
Yeshe's life is a lesson of love; showing us all how we are interconnected and that we need each other for our survival and happiness, that throughout our lives we must support and benefit each other daily, and that we can practice generosity by accepting the help of others.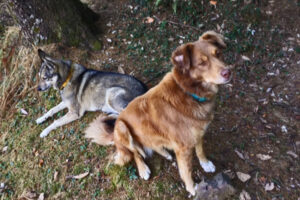 In October 2012 Venerable Kunphen rescued a pitiful looking stray puppy, covered in black tar, malnourished and scared (see newsletter 2013). She was to be the new companion for our stateswoman Nyinje Chenmo (whose longterm friend Jangsem Kalu had died a year before) and was named Yeshe to make the perfect team: Great Compassion & Wisdom. Once cleaned up and well fed, Yeshe transformed into a beautiful, energetic, playful, and loving dog full of light.
Yeshe seemed to have strong Buddhist imprints – with her gentle ways she always knew much better how to run really fast than to fight. Although over the years her rather dominant big sister Nyinje tried to toughen her up by teaching her a few tricks of the trade how to intimidate other dogs and monkeys, she never lost her sweet and rather timid nature.
Yeshe had an extraordinarily fortunate animal life and being the ugly leftover puppy proved to be a 7 in the karma lottery. At Tushita she was well fed, showered with love, free to roam around to her liking or alternatively have a snooze in her office and enjoy frequent discovery walks with her animal & human friends in the forest. But more importantly she was blessed by many of our precious teachers, by constantly being around Dharma teachings and activities, holy objects and people who were eager to expose her to the Dharma and merit opportunities as much as possible. She brought out the best in us, activated our Dharma practice and created much merit delighting so many beings through her joyous and generous ways.
As Lama Zopa Rinpoche often says about animal liberation: We enlighten them and they enlighten us!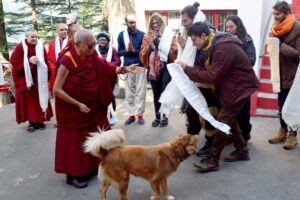 In her last two months, even though she had grown sick and weak, any moment she had some energy, the joyful dog we all knew just wanted to go for walks in the forest with her friends. She underwent all medical trials with much patience and dignity and showed great spirit until the very end of her life.
Yeshe died the way she lived – in a peaceful manner with her consciousness leaving her body only after a day. Inspiring all of us at Tushita or in far away places to maximize our Dharma practice to ensure her a favorable rebirth.
We were amazed how many people's heart she had touched! Thank you to all who have sent her their thoughts, support and prayers. Especially to Kelly, one of our intro course students and experienced vet, who had helped in those many desperate times when we didn't know what to do, and vet Sonia from Dharamsala Rescue. Also special thanks to Venerable Yangdroen, who with her big heart for animals helped in so many ways generously. We hope that her dreams for better animal care & qualified vets in the area will come true quickly!
We miss you, dearest friend & loyal companion! But we are confident that thanks to Lama Zopa Rinpoche's and so many people's prayers you smoothly made the transition from Tushita to the real pureland!!
Blessed Vases Placed at Tushita
There are many natural disasters happening all over the world today, due to environmental destruction. In order to protect life and stop these natural disasters from occurring, His Holiness the Dalai Lama advised that consecrated vases be distributed wherever needed.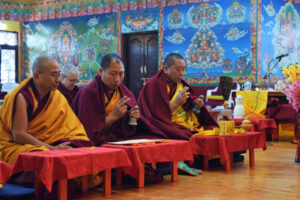 His Holiness' private office, Namgyal monastery, Gyume monastery, and Gyuto monastery came together to consecrate these vases over seven days.
Tushita was kindly offered 3 of these vases and on  4th March to our great surprise and delight the abbot of Gyume Monastery Khenrinpoche Wangdu and a few monks from Namgyal monastery came to conduct a puja to place these vases here at Tushita on our main altar.
Blessed by His Holiness, these vases serve to protect those who come here from obstacles, sickness, natural disasters, and harm from other beings. It also serves as a blessing to receive timely rain and water. Wherever the vase is placed will experience prosperity and flourishing without any obstacles.
Looking ahead…
The second half of 2019 will continue with a schedule filled with Dharma blessings and teachings, beginning with a special preliminary teaching by Yangten Rinpoche on the Foundation of All Good Qualities and a Heruka Vajrasattva Jenang for our 3-month Vajrasattva retreatants.
On November 2 & 3, we will welcome Jetsunma Tenzin Palmo again for teachings on Meditation.
In addition to the 3-month Vajrasattva retreat led by Richard Meijers, we will host group retreats on Shamatha with Venerable Drolma, Lama Tsongkhapa with Venerable Legtsok, and Chenrezig/Tong-len and Green Tara, both with Jimi Neal.
Our intermediate courses for the second half of the year will include Creating Bodhicitta with Venerable Drolma, Healing the Mind with Venerable Jamyang, Buddhist Practices with Venerable Drolma, and The Gelug Tradition of Mahamudra with Glen Svensson.
We have nine more of our most popular 10-day Introduction to Buddhism courses scheduled led by Venerables Drolma, Jamyang, and Glen Svensson.
For those unable to commit to a longer course we also have five 2-3 day short non- residential courses with Venerable Khadro, David Marks, Venerable Jamyang and Venerable Tenzin Gache.
Please see our Full 2019 Schedule and join us up on the mountain!
For those looking ahead to 2020…
We have opened registration for a very special 24-day Vajrayogini Approximation Retreat led by the inspiring Paula Chichester!
Fundraising
Upcoming Events
Movie Day on August 26, 2019 2:00 pm
Guided Meditation on August 27, 2019 9:00 am
Transforming Problems on August 30, 2019
HH the Dalai Lama teaches locally! on September 4, 2019
Introduction to Buddhism on September 7, 2019
Healing the Mind on September 8, 2019
Guru Puja on September 8, 2019 6:30 pm
Medicine Buddha Puja on September 14, 2019
Introduction to Buddhism on September 21, 2019
Lama Tsongkhapa: Scholar, Yogi, Guide on September 23, 2019
About Tushita
Tushita is a centre for the study and practice of Buddhism from the Tibetan Mahayana tradition. We're located in Northern India, in the forested hills above the town of McLeod Ganj, Dharamsala - the seat in exile of His Holiness the 14th Dalai Lama.
Tushita aims to provide a friendly and conducive environment for people of all nationalities and backgrounds to learn about and put into practice the teachings of the Buddha. With this in mind we offer regular drop-in events and courses on introductory Buddhist philosophy and meditation, as well as intermediate level courses and group retreats for more experienced students.
Opening Hours
February to November
Monday - Saturday
9:30 - 11:30am
a break for lunch and then...
12:30 - 4:00pm
Closed Sundays