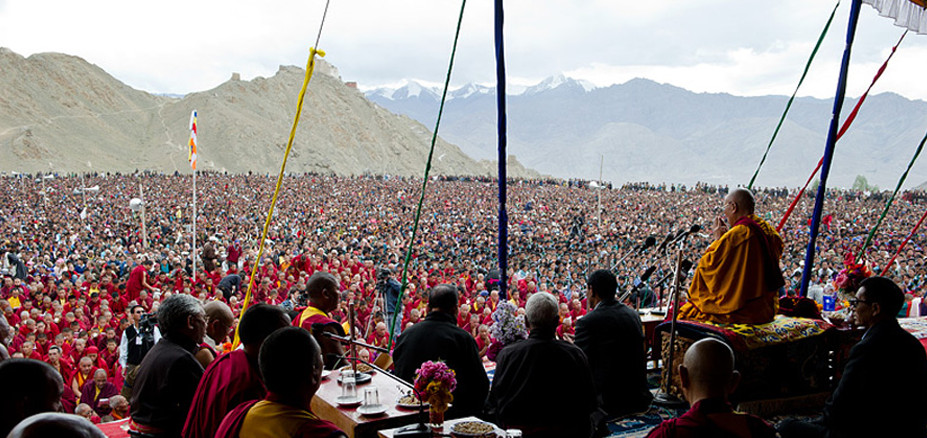 HH the Dalai Lama will confer a Kalachakra Initiation
in Leh, Ladakh, J&K State, India from July 3 – 14, 2014.
The initiation to the Kalachakra is one of the most important… because it takes everything into account, the body and the human mind, and the whole external aspect – cosmic and astrological. We firmly believe in its power to reduce conflict and we believe it is capable of creating… peace of spirit and therefore peace in the world.
His Holiness the Dalai Lama
You can find out more about this Kalachakra Initiation here: www.ladakhkalachakra2014.com
To support practitioners new and old, after the initiation in Leh Tushita will hold 2 special Kalachakra related courses and retreats led by Andy Wistreich.
More information and registration forms for each of these events can be found by clicking on the links below
---
An Intermediate Level Course, suitable for all students who have attended one of our 10-day introductory courses or equivalent.
---
A 17-day Group Retreat – Open only to those who have received the Kalachakra initiation.
---
Course leader Andy Wistreich writes:
Kalachakra is a highly developed system, perhaps the most sophisticated of all the Buddhist tantric systems. There is so much to learn, quite apart from the practice itself.

I was 31 when I attended the first Kalachakra empowerment given outside of Tibet and India by His Holiness the Dalai Lama, at Madison, USA in 1981. I had only taken refuge one year before. This is not what is recommended, to dive into the Kalachakra with little Buddhist background, but it is not all that uncommon. I had to make up for the missing background knowledge with extensive studies, but meanwhile I got on with the practice of Kalachakra. I begin the morning with this practice and still find it profoundly meaningful.

The fact is that hundreds of thousands of people take the Kalachakra empowerment but very few actually practise it, even in the Tibetan community. However, it has played a significant role in underpinning Tibetan culture, and it has the potential to play a wide role in the 21st century. This is because Kalachakra has a powerfully inclusive approach to religions, science, language, nationality and ethnicity, and perhaps because of this inclusivity, it also has become associated with peace in the world.

Although it is interesting to study the theory of Kalachakra, in order to make a difference to one's mind and the world, it is necessary to practise. In my small experience over the past thirty years, I would say that to combine study and practice of Kalachakra is rewarding inwardly and helps one to develop new positive approaches to social, political and environmental issues. We might say that the whole relationship between humanity and nature is in trouble. At this time, in these circumstances, it is possible that the Kalachakra system has something profound, powerful and practical to offer.
Upcoming Events
Guided Meditation on February 22, 2018 9:30 am
Movie Day on February 23, 2018 2:00 pm
Chotrul Duchen on March 2, 2018
Medicine Buddha Puja on March 2, 2018
Introduction to Buddhism on March 8, 2018
The Buddhist Path to Healing: The Medicine Buddha Retreat on March 9, 2018
Guru Puja on March 11, 2018 6:30 pm
Introduction to Buddhism on March 26, 2018
Healing Disturbing Emotions on March 27, 2018
Introduction to Buddhism on April 11, 2018
About Tushita
Tushita is a centre for the study and practice of Buddhism from the Tibetan Mahayana tradition. We're located in Northern India, in the forested hills above the town of McLeod Ganj, Dharamsala - the seat in exile of His Holiness the 14th Dalai Lama.
Tushita aims to provide a friendly and conducive environment for people of all nationalities and backgrounds to learn about and put into practice the teachings of the Buddha. With this in mind we offer regular drop-in events and courses on introductory Buddhist philosophy and meditation, as well as intermediate level courses and group retreats for more experienced students.
Opening Hours
February to November
Monday - Saturday
9:30 - 11:30am
a break for lunch and then...
12:30 - 4:00pm
Closed Sundays