Stupas at Tushita
When a great teacher passes away, his body is no more, but to indicate that his mind is dwelling forever in an unchanging way in the Dharmakaya, one will erect a stupa as a symbol of the mind of the Buddhas
H.H. Dilgo Khyentse Rinpoche
For a teaching about this, read "The Benefits of Circumambulating Holy Stupas" by Lama Zopa Rinpoche.
Stupa of Lama Yeshe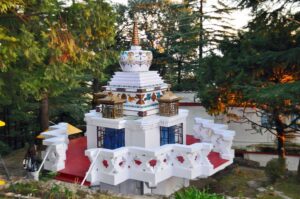 Lama Thubten Yeshe was born in Tibet in 1935.
In 1984, after an intense decade of imparting a wide variety of incredible teachings and establishing one FPMT activity after another, at the age of forty-nine, Lama Yeshe passed away. Lama Yeshe's stupa at Tushita contains many of his relics.
Lama had a very close connection to Tushita and we hope that eventually the room he lived in will be preserved as a museum in our new main building.
In 1972 Lama Yeshe and his heart disciple Lama Zopa Rinpoche purchased land in Dharamsala, the North Indian hill station that for many years has been the headquarters of His Holiness the Dalai Lama, and since 1971 the site of the Library of Tibetan Works and Archives. In a house formerly belonging to Kyabje Trijang Rinpoche, they established Tushita Retreat Center. Here many serious students from the Kopan meditation courses, the Dharamsala Library classes and other centers have come to use the ever-expanding retreat facilities to advance their spiritual practice.
During these early years, students stayed for months, some even for years! These retreatants were very fortunate to have Lama Yeshe & Lama Zopa Rinpoche often around for personal advice. For more stories please visit: Tushita – Place of Joy.
Stupa of Geshe Rabten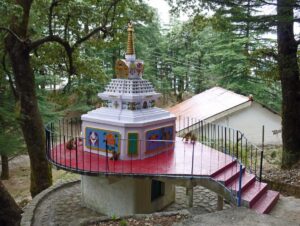 Geshe Rabten (1920-1986) was born in Dhargye in Eastern Tibet in 1920. He spent twenty years first studying and then teaching at Sera Monastic University in Lhasa, where he gained renown as a great scholar, debator and meditation master.
After the Chinese occupation of Tibet, he escaped to India in 1959, where he completed his training and was appointed as a religious assistant to the Dalai Lama in the mid 1960's.
Upon His Holiness' request, Geshe Rabten began giving instruction on Tibetan Buddhism to Westerners in Dharmasala in 1969. He was one of the first Tibetan Buddhist masters to give teachings in the West, and was one of the principle gurus of Lama Thubten Yeshe and Lama Zopa Rinpoche, the founders of Tushita Meditation Centre. He also spent many years in solitary retreat, and wrote the book Song of the Profound View about his meditation experiences.
He went to live and teach in Switzerland in 1974, and founded Tharpa Choeling Center for Higher Buddhist Studies in 1979. He resided there as a full-time spiritual director before he passed away in 1986.
This Stupa contains relics from Geshe Rabten's cremation.
Stupa of Geshe Wangdu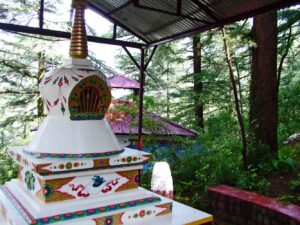 Geshe Wangdu's stupa is built on the cremation site of a great meditator that lived in the mountains around Tushita Meditation Centre.
Geshe-la was a serious practitioner who did practices such as not eating for months on end.
Geshe Wangdu was a close friend of Lama Yeshe and one of Lama Zopa Rinpoche's gurus. The stupa was built the same time as Lama Yeshe's Stupa.
When Lama Yeshe died, Geshe Wangdu said "Lama Yeshe was my friend, he goes, so I go". He died in meditative posture – his body staying upright for three days.
When his body was carried to the cremation site, the pall bearers report that it smelt sweet, like candy. After cremation, pure white ash remained of the body. These relics are in the stupa.
Stupas of Geshe Tsering & Geshe Choklyi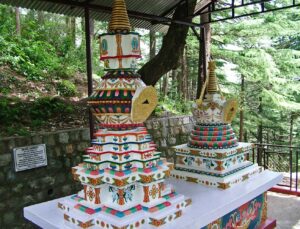 Geshe Tsering
(Born Tibet 1927 – Died Nepal 2012)
Half-brother of Tushita's founder Lama Thubten Yeshe.
Geshe-la studied and taught at Sera and Kopan Monasteries before coming to Tushita in 1979.
His heartfelt service to Tushita spanned thirty years and he is remembered with enormous affection. Read more about Geshe Tsering here.
You are young and strong, you MUST make the most of time NOW, before old age comes.
Geshe Tsering
Geshe Choklyi
(Born Tibet 1954 – Died Tushita 2012)
Geshe-la graduated from Sera Monastery and was resident Geshe at Mu Gompa / Rachen Nunnery in Tsum, Nepal from 2005 – 10.
After a long illness he passed away here and spent three days in Tukdam before his cremation. Read about Geshe Choklyi and his cremation.
Learn always to use whatever means you can to make even the slightest spark of Bodhicitta arise in you.
Patrul Rinpoche