Tushita Newsletter December 2014
Greetings from our Director – Anita Kamath Dudhane
Tashi Delek Friend,
Change and impermanence are the reality of a Dharma centre, with volunteers who come for differing periods of time. Tushita was very lucky to have Linda Gyatso as a director for 5 years and she has left behind a thriving centre; Tushita saw a surge in the number of students in her time, now numbering over 48,000 since 2009! During Linda's tenure Tushita saw many changes, especially overseeing the new Gompa building being beautifully painted and filled with holy objects exactly according to Lama Zopa Rinpoche's vision, and 3 retreat huts now almost ready. Building projects and raising funds for them are difficult in any centre but in India the effort required is quadrupled due to local conditions and Tushita's geographical inaccessibility.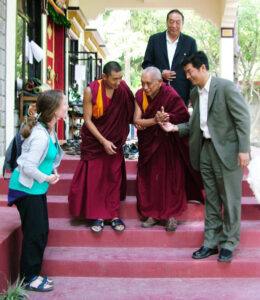 Linda's quiet, unassuming efficiency got these done in record time and will be a tough act to follow.
We wish Linda every success in her new role as Director of FDCW (Foundation for the Development of Compassion and Wisdom), and the happiness of her family life in London.
Linda is pictured left, with Lama Zopa Rinpoche and the Kalon Tripa (Tibetan Prime Minister), Lobsang Sangay at Tushita in May 2012.
Since the change in Directorship in April 2014, the Tushita team has been working hard to complete all the building work. In the next few years we hope to upgrade the living conditions for our students, to ensure a better overall experience.
Below you can see the exciting program for Dharma seekers  in 2015, including teachers such as Geshe Kelsang Wangmo, Venerable Namgyel and Glen Svensson. Introduction courses, Intermediate and Advanced courses are much in demand as are our Tantric Retreats. We can also confirm that we'll have special guests teachings from Jetsunma Tenzin Palmo and Geshe Lhakdor.
Hopefully we will also be fortunate enough to receive teachings and initiations from our precious gurus, such as  HE Kyabje Ling Rinpoche, Kyabje Lama Zopa Rinpoche, Jhado Rinpoche, Dagri Rinpoche, Yangten Rinpoche, Serkong Tsenchab Rinpoche and Khadro-la. To be be confirmed soon – watch this space: www.tushita.info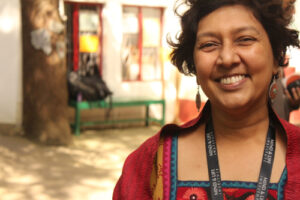 Wishing you a happy & peaceful year. As Lama Yeshe says in the teaching below:
"if you want to come to this Christmas celebration and bring a present, the best present you can bring is a peaceful mind. If you can make such an offering with true love for one another, that is enough".
With Much Love in the Dharma,
Anita
---
What's on in 2015?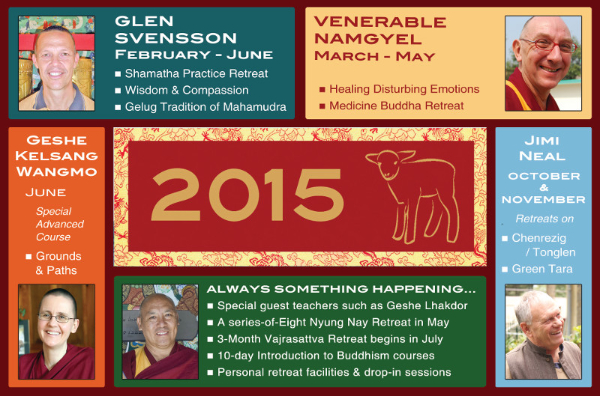 2015 – Tibetan Year of the Wood Sheep
More information about all Tushita's 2015 events can be found here.
---
Who are Tushita's Students?
Our Annual Report


We've been keeping records of the demographics of our residential students since 2009, and we've worked out some pretty geeky statistics, such as… In the 6 year period 2009 – 2014:
We had almost 8,000 residential students, from 88 countries
We also had more than 40,000 attendances on our Non-Residential courses and Drop-in sessions
Their age range was between 16 and 81
Making a total of 48,507 participants in 6 years!
For more Dharma geektastic charts, graphs and stats, see our website here.
---
What happened in 2014?
A year full of amazing events
Click on the pictures to read more about each of the following on our website news
Special Guests and events, with links to Audio Teachings






---
More 2014 News
Updates on Ongoing Projects
We're almost there! Most of the work is complete, with only 2 elements of the current advice to finish:
The installation of the four Highest Yoga Tantra ceiling Mandalas
We hope and pray that many will benefit from the painting work for many years to come.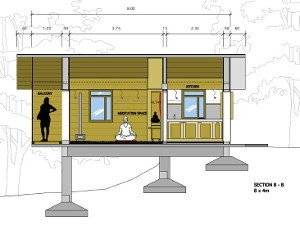 "a very important project for Tushita, so Tushita can become more useful" 
Kyabje Lama Zopa Rinpoche (March 2010)
It has been our long-term wish to be able to improve our personal retreat facilities, to provide more supportive and conducive conditions for practitioners.
We're almost finished, and hoping for our first yogis to be resident by Spring!
---
And Finally, A Beautiful Festive Teaching from our Founder, Lama Thubten Yeshe
The Spirit of Christmas: SILENT MIND, HOLY MIND
By Lama Thubten Yeshe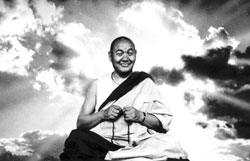 This is an excerpt published in Mandala Magazine from a series of Lama Yeshe's Christmas teachings originally published by Wisdom Publications in 1978 under the title Silent Mind, Holy Mind.
This is the week of Holy Jesus' birth, and I suggest that in honor of this special event we make some sort of celebration. But we should try to make it meaningful. It should not be some sort of physical sensation, bringing only more confusion and superstition to our minds.
For a Christmas celebration to be a good one, it must be of a truly religious nature. Jesus came to this Earth and presented his teachings, but worldly beings completely disregard this fact. For them, Christmas means – first and foremost – spending money, buying presents, and creating confusion. Such confusion is entirely of our own making. We have the power to make Christmas meaningful, peaceful, and truly religious, but instead of using this power we succumb to worldly negative energy. We go shopping to buy presents, but this is not done with anything even resembling a loving attitude. We think, "I really must buy something for my sister, because if I don't give her anything, maybe she won't like me anymore. Maybe she won't give me anything either." Or, "I better not get my friend a cheap present, or I might not get anything valuable back from him next year." Such thoughts are extremely negative, leading to nothing but dissatisfaction. They are totally involved with egotistic and immature notions about what true happiness is. They have nothing whatsoever to do with religion.
True religion brings peace and satisfaction to the mind. Actions that arouse only confusion serve no religious function at all. They stem instead from a political mind that thinks, "If I give this, I'll get that in return." Such a mind is extremely immature. It delights when many presents are received, and is depressed when expectations go unfulfilled. What difference, then, is there between such a mind and that of a small child? We consider ourselves to be grown up, but our actions and attitudes show us to be little different from our children. They exaggerate the importance of receiving gifts, and so do we. In fact, their exaggerated expectation of their minds of confusion and dissatisfaction are mainly developed by watching us. If we were to act in a consistently mature and meaningful way, our children would also become peaceful. We sometimes think that they are naturally berserk, and that we are something special but this is not so. Check up and see exactly what happens when a holiday approaches. We are the ones who create the commotion. The first thing that happens at the beginning of a holiday is that husband and wife, brother and sister and so forth begin to fight with one another. Be honest, and investigate the truth of this. I am not trying to be excessively negative; just check up and see if this is true or not. Holiday bickering has so much jealousy in it, "Let me see, what did you get? What did you get?" Such a dualistic mind is totally submerged in selfishness and wrong conceptions.
This deluded behavior is not common only to one type of culture. It can be found everywhere. Similarly, the antidote to this confusion is not taught merely in Buddhism. All religions strive to counter unsatisfactory, confused attitudes and bring us peace of mind. This article can be read in full on the website of Mandala Magazine, here.
Upcoming Events
Guided Meditation on February 22, 2018 9:30 am
Movie Day on February 23, 2018 2:00 pm
Chotrul Duchen on March 2, 2018
Medicine Buddha Puja on March 2, 2018
Introduction to Buddhism on March 8, 2018
The Buddhist Path to Healing: The Medicine Buddha Retreat on March 9, 2018
Guru Puja on March 11, 2018 6:30 pm
Introduction to Buddhism on March 26, 2018
Healing Disturbing Emotions on March 27, 2018
Introduction to Buddhism on April 11, 2018
About Tushita
Tushita is a centre for the study and practice of Buddhism from the Tibetan Mahayana tradition. We're located in Northern India, in the forested hills above the town of McLeod Ganj, Dharamsala - the seat in exile of His Holiness the 14th Dalai Lama.
Tushita aims to provide a friendly and conducive environment for people of all nationalities and backgrounds to learn about and put into practice the teachings of the Buddha. With this in mind we offer regular drop-in events and courses on introductory Buddhist philosophy and meditation, as well as intermediate level courses and group retreats for more experienced students.
Opening Hours
February to November
Monday - Saturday
9:30 - 11:30am
a break for lunch and then...
12:30 - 4:00pm
Closed Sundays