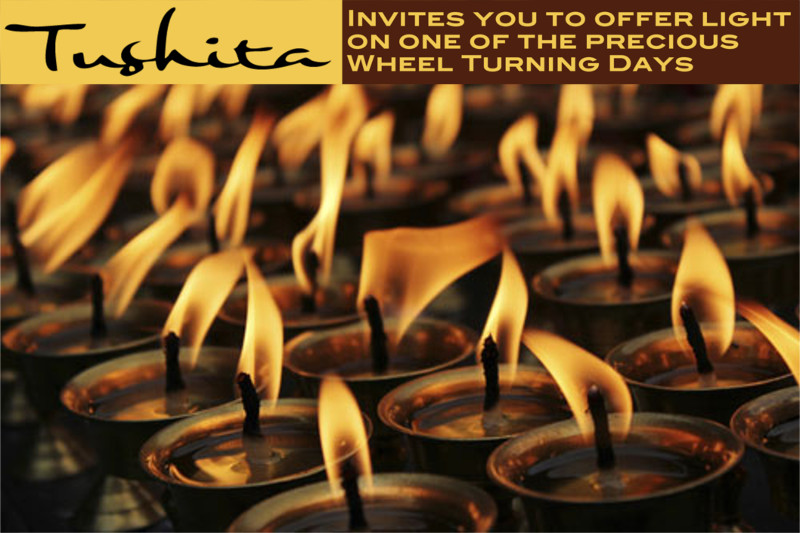 Greetings *|FNAME|*,
ACCUMULATING MERIT AT TUSHITA
November 13th marks the last major merit-multiplying day in the Tibetan Buddhist calendar for 2014. This day commemorates the descent of the Buddha from the Tushita Heaven of the Thirty-Three, where he had gone to teach his mother the Dharma.
It is said in the scriptures that virtuous activities undertaken on such Buddha days are increased 100 million times!
Therefore we would like to invite you to take advantage of this auspicious day and consider one of the merit-making opportunities that we have to offer at Tushita:
1. Lama Tsong Khapa Merit Field Thangka
Due to the generous support of many of you who visited us for the first time during the Dalai Lama's South Asian teachings in September this year, we are that much closer to our fund-raising target for this enormously beneficial holy object. You can see more about this project by clicking on this link.
We now need to raise only another 270,224 Rs (around 5,750 S$).
2. Light offerings
Offering lights to holy objects is a very powerful practice for dispelling the darkness of ignorance and receiving the illumination of wisdom in our minds.
It also helps us to create the cause to attain realizations.
We are currently preparing for this wheel-turning day and as well as other events to mark the occasion, we will be conducting a butterlamp light offering ceremony in the morning. We would be very happy to have a lamp lit and burning here for you all day in this holy place in Dharamsala, India (home in exile of His Holiness the Dalai Lama), and to make any special dedications on your behalf.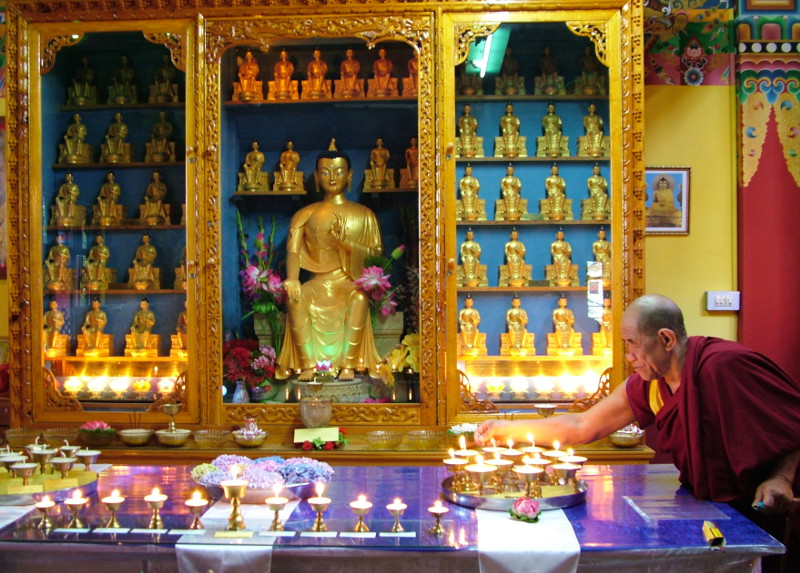 On this auspicious day, you can sponsor:
one small butterlamp (which burns for around 6 hours) for S$10

one larger butterlamp (which burns all day) for S$30
How to offer
By cheque:
Your cheque can be made out to "Audrey Tan", "Acc No. 120-7-001688"
and drop the cheque into a DBS or POSB cheque box.
(DBS Savers account no 120-7-001688).
Please email or sms Audrey after you have done the transfer.
Regardless of your mode of offer, kindly indicate your name and email address so that we can acknowledge and keep you updated.
If you have friends or loved ones who you think may be interested in these special merit-making opportunities, please do help us forward this email to them. We shall look forward to your participation in these merit-making opportunities and we thank you in advance for whatever contribution you may wish to make.
Yours in the Dharma,
Gillian
Fund-raising co-ordinator
www.tushita.info
Upcoming Events
Guided Meditation on February 22, 2018 9:30 am
Movie Day on February 23, 2018 2:00 pm
Chotrul Duchen on March 2, 2018
Medicine Buddha Puja on March 2, 2018
Introduction to Buddhism on March 8, 2018
The Buddhist Path to Healing: The Medicine Buddha Retreat on March 9, 2018
Guru Puja on March 11, 2018 6:30 pm
Introduction to Buddhism on March 26, 2018
Healing Disturbing Emotions on March 27, 2018
Introduction to Buddhism on April 11, 2018
About Tushita
Tushita is a centre for the study and practice of Buddhism from the Tibetan Mahayana tradition. We're located in Northern India, in the forested hills above the town of McLeod Ganj, Dharamsala - the seat in exile of His Holiness the 14th Dalai Lama.
Tushita aims to provide a friendly and conducive environment for people of all nationalities and backgrounds to learn about and put into practice the teachings of the Buddha. With this in mind we offer regular drop-in events and courses on introductory Buddhist philosophy and meditation, as well as intermediate level courses and group retreats for more experienced students.
Opening Hours
February to November
Monday - Saturday
9:30 - 11:30am
a break for lunch and then...
12:30 - 4:00pm
Closed Sundays