Location & Travel Information
Where we are
FAQs
Location & Travel Information
Location & Travel Information
Tushita is located on a forested mountain slope at an altitude of 1888m (6190ft) in the Dhauladhar range (the beautiful foothills of the Himalayas), in Himachal Pradesh, Northern India. To get to Tushita you first need to go to Dharamsala (elevation 1220m), roughly 10 – 12 hours drive north from Delhi. From there it is a 20 – 30min taxi or bus ride up the hill to McLeod Ganj (elevation 1770m) and a further 10min taxi or rickshaw ride up to Tushita (next to the village of Dharamkot).
Please note: Even though Dharamsala is often taken to be synonymous with the home of His Holiness the Dalai Lama and the Tibetan Government in exile, the actual Tibetan settlement is up the hill, in McLeod Ganj.
The following basic information is to assist you in making a general assessment of your travel options. This is NOT a full list of all travel options or details. We are not able to provide any further travel information than what is written below. Please check your travel guidebook for further details, keeping in mind that all travel information in India is subject to change at very short notice.
There are 4 main means of transportation you can use to get here:
TRAIN
The train is our favourite mode of transportation in getting here from Delhi. Unfortunately however, it's becoming increasingly difficult to book a ticket in advance – ironically because it's so much easier that ever before! Ticket booking used to involve long, frustrating queues, so people only bought a ticket when they were absolutely certain of their plans. Now that online booking is so straightforward, it makes perfect sense just to get a ticket anyway, and trains often book up as soon as they become available on railway websites.
Indian Railways are adjusting to this altered pattern of ticket buying and have made a lot of changes recently. The information below was current at the time of writing, but please use the following as guidelines only and check the current status before you travel.
For example, recently the period of ticket availability was reduced to 2 months – meaning that you can now only buy train tickets online 60 days before the day of travel. So, our best advice is to be ready to book on that day, 2 months before travel, or (if you're travelling on a Tourist Visa) to use Tourist Quota, available at major train stations (see the "Booking tickets in person" section below). Otherwise, be warned that getting a train ticket for this busy Jammu Tawi line might be difficult.
The two nearest stations to Dharamsala are Pathankot (PTK) and Chakki Bank. In late 2013, Chakki Bank changed its name to Pathankot Cantonment or Cantt (PTKC). These stations are on the main line to Jammu Tawi. Both these stations are around 3 – 4 hours by road from McLeod Ganj, so you then have to take a bus or taxi – see "Getting to McLeod Ganj from the nearest train station" below.
There are a number of trains from Delhi, the most popular are:
#14033 – Jammu Mail. An overnight train which leaves OLD DELHI Railway station (NOT New Delhi Station) at 9:25pm each night and stops at Pathankot Station around 7:20am (before continuing on to Jammu Tawi). Please note: If you are catching a taxi to Old Delhi station, allow plenty of time as the traffic can be very bad on the last part of the journey through Old Delhi streets. The traffic can often be at a standstill at various points along this road.
#12919 – Malwa Express. A day train which leaves NEW DELHI at 5am and stops at Chakki Bank/Pathankot Cantt Station around 1:45pm (before continuing on to Jammu Tawi).
There are also a number of others, you can search for them here (enter Jammu as the destination station).
Pathankot is quite a big station and the train stops there for about 15 minutes. If you are worried about missing it, just ask the man on the train, who gives out the blankets etc, to tell you when the station is coming up. Usually there are people awake in the carriage who will also help you get out at the right place. It's not difficult!
Chakki Bank / Pathankot Cantt is a smaller station just a few minutes before Pathankot station. The train stops quite briefly here, so be ready to get off the train. The train guys or people in your carriage are usually very helpful in telling you when to get ready.
Booking train tickets online
There are two websites where you can book train tickets online using a credit card:
1. http://www.irctc.co.in/ (The official Indian Railways website)
If you just want to check times/availability/fare, you can do that here (enter Jammu as the destination station).
If you want to book tickets, you must sign up and login at http://www.irctc.co.in/
If the train appears to be sold out and departs within 2 days of booking, you could try using the Taktal system.
It is possible to book from overseas using a credit card on the IRCTC website, but many people find it difficult to use.
In this case, there is another website which is much more user-friendly…
2. http://www.cleartrip.com/trains
You have to pay a slightly higher charge to book this way, but it is much easier to use than the IRCTC site. You can also check for train availability over a certain period of time (useful if you don't have specific dates in mind) here.
Booking train tickets in person
While in Delhi, there is a very convenient and easy way for foreigners to buy a ticket for any train in India. Go to the NEW Delhi Railway Station, and on the first floor you will find the INTERNATIONAL TOURIST BUREAU (8am-8pm Mon-Sat, 8am-2pm Sun). It is located on the first floor of the main station building (touts are particularly active around here – don't believe anyone who tells you that the office is now located across the street, it will be a private travel agency painted to look like an official railway office!).
This railway office arranges tickets on "Tourist Quota", which you can read more about here and here. Booking a ticket this way often means that (if you are a foreign passport holder on a tourist visa) even if a train is otherwise sold out, you may still have a good chance of getting a ticket. Although most travel agents will be able to arrange train tickets for you for a small charge, you will only be able to get Tourist Quota tickets in person at major train stations.
Train Costs and Classes
When booking in person, you can pay two ways (you need your passport and a valid visa for both):
with $US, Euros or Sterling (you get change back in Indian rupees)
with Indian Rupees, but you have to show a legal encashment certificate (eg. money exchange receipt or an ATM slip)
Costs:
Sleeper – Approx 200 – 300 rupees.
Provides: Padded berths in 3 tiers to sit/sleep on, no bedding provided so bring your sleeping bag. Used by average Indians and is usually quite acceptable, but it's always a good idea to keep an eye on your bags.
3 Tier Air Conditioned Carriage (3AC) – Approx 600 rupees
Same capacity as Sleeper class, but with air conditioning/sealed windows.
Provides: Padded berths in 3 tiers to sit/sleep on with sheet, pillow and blanket given out after the train departs. Generally middle class Indians and foreigners travel this class because it is a bit safer from bag thieves as the carriage doors are locked at night so people don't wander through the carriages. People who have never travelled by train in India before may prefer this class (though Sleeper is fine, too!).
2 Tier Air Conditioned Carriage (2AC) – Approx 900 rupees
Provides: Padded berths in 2 tiers to sit/sleep on with sheet, pillow and blanket given out after the train departs. Generally middle class Indians and foreigners travel this class because it is a bit safer from bag thieves as the carriage doors are locked at night so people don't wander through the carriages. People who have never travelled by train in India before may prefer this class (though Sleeper is fine, too!).
You can see pictures of the class systems here, and find general information about Indian Trains on: http://www.seat61.com/India.htm
Getting to McLeod Ganj from the nearest Train Station
When you reach Pathankot or Chakki Bank/Pathankot Cantt, you can catch a local bus from the bus station (approximately 100 Rupees and takes around 4 hours). There is a bus that leaves Pathankot bus station at 8:30am, which matches up quite nicely with the arrival of the #4033 Jammu Mail from Old Delhi, at 7:30am (if it's running on time!). The bus station is a 10-minute walk (or 5-minute cycle-rickshaw ride) from PATHANKOT train station (note that its another 15 minutes or so by taxi from Chakki Bank/Pathankot Cantt). There is a small restaurant at the bus station where you can wait for your bus. This bus takes you all the way up to McLeod Ganj, but most of them stop in Dharamsala, from where you have to take another bus or shared jeep to McLeod Ganj (10 rupees). Ask when you get on the bus.
Alternatively, there will be many taxis at the train station. A taxi up to McLeod Ganj will cost approximately 1,850 rupees. You can cut this cost by looking around for some other Westerners when you get off the train and asking if they'd like to share. Other westerners are almost guaranteed to also be coming here! There are taxi stands at both Pathankot and Chakki Bank/Pathankot Cantt stations. The taxi journey takes about two and a half hours and drives through beautiful scenery.
At McLeod Ganj, you may need to take another taxi up to Tushita (all the taxi drivers know Tushita) which is 100 Rupees (70 rupees by auto rickshaw).
BUS
If you're already in India and booking at fairly short notice, it's much easier to get a ticket on a bus than a train. It's also more direct (although less comfortable). All bus journeys between Delhi to Dharamsala take around 12 hours (an overnight trip).
There are several different private operators travelling from Delhi to McLeod Ganj nightly (eg. Bholenath, Bedi, Laxmi, A.N. Holidays and many more). They leave either from close to Paharganj or Majnuka Tila (the Tibetan settlement, about 30 minutes outside of central Delhi), departing Delhi in the early evening and arriving at McLeod Ganj in the early morning, and many offer higher class or A/C vehicles.
There are also Bus Services run by the Himachal Pradesh State Government which you can book online: You can travel to Dharamsala from New Delhi by the Himachal Road Transport Corporation (HRTC) bus from Kashmere Gate ISBT (Inter-State Bus Terminal – Delhi Metro Map can be seen here)
All buses stop once or twice during the night for toilet & snacks. It's a good idea to take your own drinking water on the bus. Bus tickets cost from 450 to 1200 rupees, depending on the season and the type of bus. For more information and booking please visit the above websites or one of the many travel agencies in Paharganj or Connaught Place. Most Government buses will terminate at Lower Dharamsala, so check when you board, and be prepared to take a further taxi (250 rupees), bus or shared jeep (10 rupees) up to McLeod Ganj when you arrive.
Bear in mind that Indian bus terminals can be quite a sensory overload, and if this is your first trip to India and/or you're feeling sensitive, we'd probably recommend that you take the train or plane as a first option.
PLANE
Our closest airport has 3 names! Most airline/travel websites will call it Dharamsala (DHM), but it is also known as Kangra or Gaggal airport. It is about a one hour / 800 rupee taxi ride away from Tushita. Direct flights only operate to and from Delhi.
2012/13 was a confusing time for flights to this area. The route had been operated by Kingfisher airlines for several years, but throughout 2012, Kingfisher reduced services and finally went out of operation. For most of late 2012 and early 2013 there was no airline service to this airport. As of June 2013, 2 airlines have re-commenced daily, early morning flights from Delhi to Dharamsala (DHM), but this route is often subject to cancellations, and we strongly advise passengers to re-confirm their flight with the airline at the time of booking and pre-departure.
The 2 airlines are Air India and Spice Jet,
while travel sites such as Cleartrip or Make My Trip will give you a good overview of options.
We also strongly request that all travellers to Tushita follow this advice…
***("We recommend that all students plan to arrive in Dharamsala by at least the day before your course starts, given that travel delays are common, particularly in cold or Monsoon months, and to give yourself time to rest after your journey"). This applies most particularly to those travelling by plane, so that if there are cancellations or delays, you will still have time to make other arrangements and get here in time for check-in. Please also bear in mind that check-OUT begins at 1pm on the last day of the course, so please do not book your flight to depart on the same day the course ends.***
Alternative Airports?
The two nearest alternative airports are both a 5-hour, 4,000 rupee taxi ride away.
The next-nearest place to fly into is Jammu Airport, which is 190kms away (North-West of Dharamsala). An advantage is that Jammu Airport is served by several major airlines including GoAir, SpiceJet, IndiGo and AirIndia and there are many daily flights from Delhi, Mumbai and several other domestic cities. Flights from Delhi should cost somewhere between 3,500 – 9,000 rupees.
Most of these airlines also fly to Amritsar Airport, which at 210kms (South-West of Dharamsala) is only slightly further away than Jammu, but takes longer to drive due to rougher roads. Amritsar has the advantage of being an International airport (although not served by many international airlines), and being home to the wonderful Harmandir Sahib (Golden Temple), very much worth a detour!
See online travel search engines such as Make My Trip or Cleartrip for further flight information and booking. Both Jammu and Amritsar have public bus services to and from Dharamsala, but these can take almost twice as long as a taxi and are only recommended for hardcore travellers – who are unlikely to be flying domestically anyway! Taxis are usually arranged on arrival, or via a travel agent such as listed at the bottom of this page.
TAXI
If you go to any of the travel agents or taxi booths in Delhi, you can find out about getting a taxi from Delhi to McLeod Ganj.
It takes approximately 12 hours to drive between here from Delhi and it will cost somewhere between 7 – 9,000 rupees, depending on the size of the vehicle.
And a word of warning, mostly for Indian citizens:
Please do not travel here by private vehicle!
Traffic congestion is becoming a major problem as this area becomes more popular with weekend visitors from neighbouring states. The McLeod Ganj area is small and well served by auto-rickshaws and taxi's. In addition, it is not possible to park private vehicles (motorbikes or cars) at Tushita, nor is there anywhere to park nearby. We very much hope that private cars will be restricted entry to McLeod Ganj in the future.
General information that may be helpful to any traveller to Tushita
Travel advice from Delhi International Airport to central Delhi
The new Indira Gandhi International Airport opened in late 2010 and has radically improved comfort levels for International travel through New Delhi. You can expect to find most standard International Airport facilities here (ATM, Money Changers, Tourist Info etc). The Airport's website is
here
.
By far the easiest and safest way to travel to and from the International Airport and Central Delhi is by the new Airport Express Metro Line, which opened in February 2011. The Airport Link runs from 4am to 11pm and should take around 20 minutes. It costs 150 rupees for a single journey. This line only has a few stops and terminates at New Delhi Metro station, which is convenient for onward rail travel.
Most backpackers stay in an area called Paharganj, where there are many reasonably priced hotels (and a few nice ones too), travel agencies, money changers, cheap clothing and gift shops. Paharganj can be accessed by 2 Metro stops; New Delhi itself and Ramakrishna Ashram Marg on the Blue Line. They are located at opposite ends of Paharganj, but most people will find Ramakrishna Ashram Marg more convenient than cutting though hectic New Delhi station to get to their hotel.
You can still travel from the airport by bus or taxi, and information about these can be found here.
If you do plan to take a taxi from the airport, for a fairer price and safer journey we recommend that you use one of the "Delhi Police Pre-Paid Taxi" counters in the arrivals area (best to ignore all the offers for taxis from the people standing around). Just tell them the hotel / area you want to go to and how much luggage you have (you have to pay a few Rupees extra for big pieces), then you will get a receipt (which you will give to the driver AFTER you arrive at your hotel). The receipt will give the driver's number on it, so you then follow the pre-paid taxi signs outside where usually a driver will find you. A taxi to Paharganj / Connaught Place costs approximately 350 rupees.
Directions from McLeod Ganj to Tushita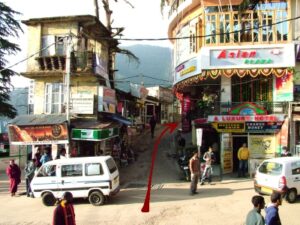 It takes about 15-20 minutes to walk from McLeod Ganj to Tushita, up a very steep hill. Beginning at the Main Square in McLeod Ganj (pictured right), there is a Hotel called "Asian Plaza". To the left hand side of this building, there is a path that leads up past a few jewellery/thangka shops, and an imported foods shop called "Osho". Just around the corner is the "Common Ground" cafe.
This is the same path that you climb to get all the way to Tushita, so just keep following it up, up, up and expect to meet many monkeys on the way! After 10-15 minutes you'll see the "Regional Mountaineering Institute" building. At this point you're about 3/4 of the way there, just keep following the same path.
Around the corner from the Mountaineering Institute you'll see a small white stupa and the Tushita signboard. Come through the gate and keep climbing up the steps for another 5 minutes, passing by a few small cottage-style buildings on the way (Monks and Nuns live there in retreat, please don't go in!). When you run out of stairs, you are there!
Of course, the easiest way is to take a taxi or rickshaw!
You can pick them up easily just below the Main Square. A taxi will cost 100 rupees, and a rickshaw 70 rupees. It takes about 10 minutes. You can also walk here on this road. It takes longer than the other path, and is sometimes busy with traffic, but is at a much gentler incline.
Travel Agent Recommendation
We are sometimes asked for travel agency recommendations. This can be a tricky since people often have very different experiences from the same agency, especially in India. However, one agency that has given us reliable service so far is "
Dream Holiday
" in McLeod Ganj.
Contact:
Vineet Sharma
+91 – 1892-221469
+91 – 9816087878
vineet_dream@yahoo.com
www.dreamholidayindia.com
Plan your trip for timely Arrival & Departure!
Mother India is an excellent teacher of the art of surfing life's vicissitudes. Few other places help you to identify and re-negotiate your boundaries of patience, time and expectation as vividly. It's partly why India's spiritual soil is so fertile. With an open, relaxed and realistic attitude to travelling in India, it can be an extremely pleasant, even joyful and truly liberating experience.
Given that travel delays are common, we strongly recommend that all students plan to arrive in the Dharamsala area by at least the day before your course starts, particularly in cold or Monsoon months, and also to give yourself time to rest after your journey.
Please also bear in mind that check-OUT begins at 1pm on the last day of the course, so please do not book any onward journey that requires you to leave Tushita before 1pm on the last scheduled day.
Tushita wishes you safe, happy, magical travels!
Upcoming Events
Guided Meditation on February 12, 2018 9:30 am
Movie Day on February 12, 2018 2:00 pm
Losar on February 16, 2018
Sutra of Golden Light Reading on February 16, 2018
Introduction to Buddhism on February 20, 2018
Chotrul Duchen on March 2, 2018
Medicine Buddha Puja on March 2, 2018
Introduction to Buddhism on March 8, 2018
The Buddhist Path to Healing: The Medicine Buddha Retreat on March 9, 2018
Guru Puja on March 11, 2018 6:30 pm
About Tushita
Tushita is a centre for the study and practice of Buddhism from the Tibetan Mahayana tradition. We're located in Northern India, in the forested hills above the town of McLeod Ganj, Dharamsala - the seat in exile of His Holiness the 14th Dalai Lama.
Tushita aims to provide a friendly and conducive environment for people of all nationalities and backgrounds to learn about and put into practice the teachings of the Buddha. With this in mind we offer regular drop-in events and courses on introductory Buddhist philosophy and meditation, as well as intermediate level courses and group retreats for more experienced students.
Opening Hours
February to November
Monday - Saturday
9:30 - 11:30am
a break for lunch and then...
12:30 - 4:00pm
Closed Sundays