Hello Everyone!
A big warm hello from the hills of Tushita Meditation Center!
The New Year of the Fire Monkey started at Tushita in a very surprising and auspicious way. Our precious guru Kyabje Lama Zopa Rinpoche, while staying for a few weeks nearby at Tso Pema, very kindly offered us two beautiful snow lions. We named them Pema & Tashi and as Rinpoche advised, our "new meditation leaders" are now greeting our many visitors and students and "talk about the mind to Westerners and Indians".
This is how it came about…
From FPMT NEWS on February 9th, Losar Day
Lama Zopa Rinpoche recorded a 20-minute video Losar greeting for the students and supporters of the FPMT organization during his visit to Tso Pema (Rewalsar) in the Indian state of Himachal Pradesh, where Rinpoche stayed for a few weeks in January and February.
"My dear students and all my dear brothers, sisters, fathers, mothers – everybody – thank you very much," Rinpoche says in the video message. "For the Monkey Year, for this new year, I'm offering from my heart greetings and a billion, zillion, trillion, skies of offerings to everybody. Please, everybody, enjoy bliss – meaningful happiness – in the new year."
Watch "Lama Zopa Rinpoche's Message, Losar 2016" on YouTube:
https://youtu.be/riwytpShUlY
In the video, Rinpoche sits between two snow lion statues on the roof of the building where he completed some personal retreat. Rinpoche purchased the statues from a Tibetan artist's shop in Tso Pema and is offering them to Tushita Meditation Centre in McLeod Ganj, which is about 100 miles (160 kilometers) to the west and north by car. "I thought I'd send the snow lions to Tushita on my behalf and they can lead meditations and talk about the mind to Westerners and Indians," Rinpoche said jokingly about the statues.
You can watch a short video of Rinpoche offering the lions to Tushita on our Video resources page.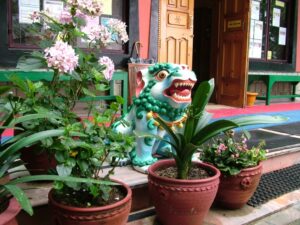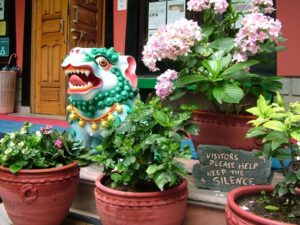 Since Pema and Tashi have arrived in February it has been a rich time full of courses, retreats and drop-in activities. And some truly extraordinary events with Khyongla Rato Rinpoche, Yongey Mingyur Rinpoche, Yangten Rinpoche, Jetzunma Tenzin Palmo, Gen Gyatso, Geshe Dorji Damdul, Geshe Kelsang Wangmo and Geshe Lobsang Tsepal.
This is only the beginning though! During the second half of our season we have planned some real perks, like courses and retreats with Geshe Lhakdor, Venerable Robina Courtin, Glen Svensson and Jimi Neal. Also Venerable Drolma will return in October to be our new resident teacher! And being Tushita, there are usually many great surprises waiting for us, like unexpected visits and teachings from our precious lamas.
But more details about our program in a later newsletter. This time we really wanted to share with you the completion of the main Dharma projects earlier this year, fulfilling LAMA ZOPA RINPOCHE'S vast vision for Tushita. Have a look and rejoice with us:
The Gompa Painting Project
This has been one of the most elaborate and complex projects in Tushita ever. Lama Zopa Rinpoche had given detailed advice on the painting of the building, both inside & out. In addition, we were able to consult for specific questions with Jhado Rinpoche and Khadro la (Rangjung Neljorma Khadro Namsel Drolma). So we've been extremely fortunate to have such enlightened guidance and vast painting vision.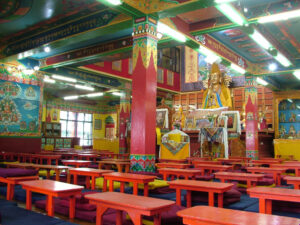 Since September 2012, when a group of talented Tibetan painters started the actual painting, it has been an extraordinary process to witness such massive transformation to our Main Gompa.
Among other smaller paintings, our gompa includes now elaborate murals of the 12 Deeds of the Buddha, the Lama Tsong Khapa Guru Yoga, the 5 Aspects of Lama Tsong Khapa, the 7 Medicine Buddhas, the 21 Taras, the 6 long life symbols, several sets of mantras and classical Tibetan Buddhist verses, 2 chakra images and 10 big mandalas including Vajrasattva, Medicine Buddha, Tara, Chenrezig, the 16 Arhats, Gyalwa Gyatso, Yamantaka and Kalachakra.
You can see a short film we made of this process on our Video resources page  and a series of beautiful images taken by George Lubikowski by clicking here.
Special thanks to Grace Gyatso (previous Linda) who was involved in this project from the very beginning and devoted so much time and effort to it when working as Tushita Meditation Centre's Director until March 2014.
We hope and pray that many visitors and students will be inspired and benefitted by these amazing paintings for many centuries to come!
Lama Choepa Merit Field Thangka
A thangka is an object of Tibetan Buddhist art painted or appliqué on fabric, framed by brocade and usually depicting a Buddhist deity, scene or mandala. The Lama Choepa Merit Field depicts visualized or actual holy beings to whom one goes for refuge, makes offerings and so forth, thus accumulating merit, and to whom one prays or makes requests for special purposes.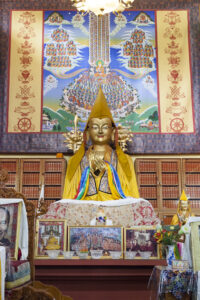 Since March 2016 this huge thangka presides over our altar of the main gompa. Its dimensions are 15 ft wide x 12.7 ft high (4.6 x 3.8 meters). This piece of fine art is composed of 409 individual deities that were custom-made using the finest materials and gold paint.
A team of 5 thangka painters were working full time for over 9 months until the painting was completed as per Lama Zopa Rinpoche's instructions. We had to overcome many obstacles, starting from finding a room high enough to fit the canvas to dealing with the overwhelming moisture during the monsoon rains, when we had to use heaters and dehumidifiers to keep the canvas dry enough for the artists to paint on it.
The result is breathtaking! Here some details of the painting to admire.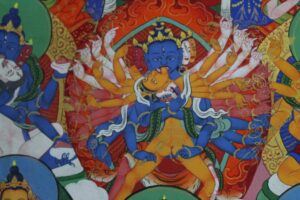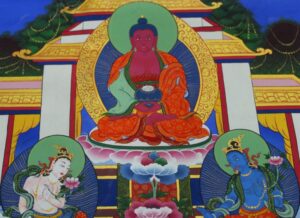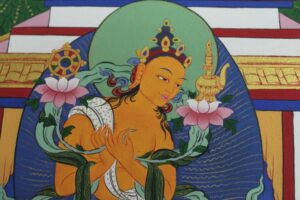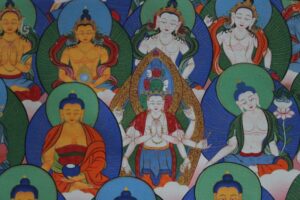 The 7 Royal Possessions & the 8 Auspicious Signs
There was still a spot with no paintings in the gompa! So Lama Zopa Rinpoche advised to paint the two pillars in front of our Lama Tsong Khapa statue with the 7 Royal Possessions [1] and the 8 Auspicious Signs [2]
See some of these paintings below.
Wheel of Life
This traditional image illustrates the Buddhist teachings on cyclic existence or samsara.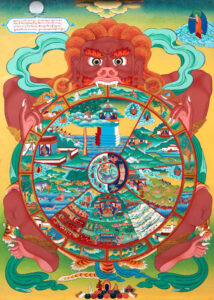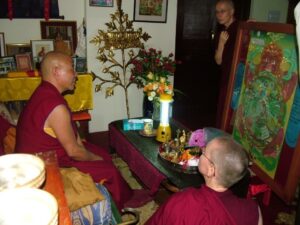 Jhado Rinpoche very kindly supervised the correct painting of the Wheel of Life. Rinpoche put special emphasis on the meaning of the verses included on the canvas describing the path to enlightenment. We are also making a postcard with the image of the Wheel of Life and the teachings given by Rinpoche explaining its meaning.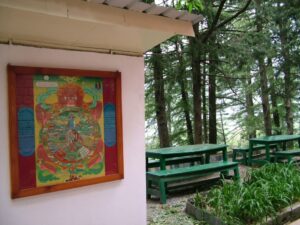 Lama Atisha & Guru Rinpoche Statues
Completing our altar in the main gompa are the statues of Lama Atisha and Guru Rinpoche (Padmasambhava).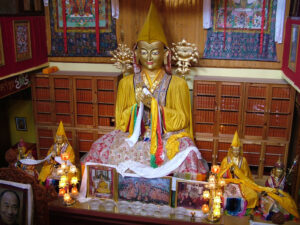 The highest nobility is in subduing your own mind.
The highest excellence is in having a mind which seeks to help others.
(Lama Atisha 985-1054)
Being almost 40 inches high (approx. 1 meter), these statues were made in Kathmandu/ Nepal by a reputed statue maker. Following the traditional Tibetan style, they were made of copper and then carefully painted. After a long journey by road from Kathmandu up the hills of Dharamsala, these statues arrived at Tushita end of 2014, when a group of experienced monks from the Gyurme Tantric College dressed and filled them with mantras.
We placed them next to the statues of Lama TsongKhapa and his two main disciples, Gyaltsab je and Khedrup je, and the 2 collections of canonical texts in Tibetan Buddhism known as Kangyur and Tengyur. To fit all these statues and texts we had to extend the altar!!
We were deeply honored when Dagri Rinpoche and Khadro la (Rangjung Neljorma Khadro Namsel Drolma) came for the consecration of the statues during the Days of Miracles in February 2015!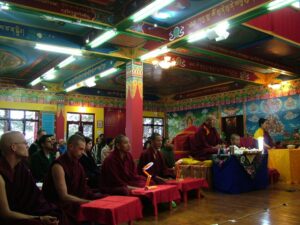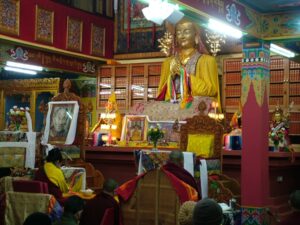 Kshitigarbha Statue
During Lama Zopa Rinpoche's visit to Tushita in 2013, Rinpoche said "Kshitigarbha is so important compared to all the other bodhisattvas.  If you make prayers to Kshitigarbha, the prayers are 100 million times more powerful than other bodhisattvas.  Make a Kshitigarbha statue where people can make offerings and make strong prayers. Ksitigarbha is very powerful for success".
So this is what we have done! A beautiful life-size marble statue of the Bodhisattva Ksitigarbha now resides in its own gorgeous shrine, where everybody is able to make offerings and prayers.
This time Rinpoche chose an artist in Varanasi, where a long tradition of marble and sandstone carvers has been preserved.  A clay statue was done first and with this as an example, they worked on the marble block. After 6 months of work, two trips to Varanasi and some corrections Rinpoche recommended, the statue was ready.  The 1,500 Km trip from Varanasi, through the winding roads of northern India brought the statue home.
Earlier this year Lama Zopa Rinpoche advised to offer gold to the statue, by painting the face with pure gold and the rest of the body with best quality golden paint. As soon as the monsoon gives us a break and the weather becomes drier we will do the offering. Rinpoche also mention that: "this statue could be a model for other people or centers who want to make one; only the size will change".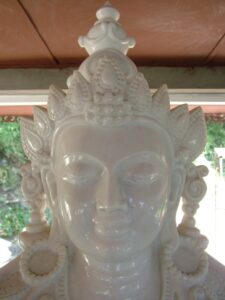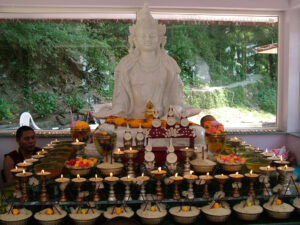 Painting of the Stupas
The stupas of Gen Wangdu, Geshe Tsering and Geshe Choklyi have been freshly painted and given new roofs, protecting them from our strong and long monsoon rains and snowy winters. They now beautifully shine out across Tushita.
With this an astonishing number & wide range of projects have been completed…
But don't despair – more are already coming up:
16 Arhats Statues
The 16 Arhats were the closest disciples of Buddha Shakyamuni. At the time of the Buddha's parinirvana, he requested the 16 Arhats to remain in the world to protect the Dharma as long as beings will benefit from the teachings, and they vowed to stay in the world to preserve the Dharma until the time of the future Buddha Maitreya.
Following Kyabje Lama Zopa Rinpoche's advice, the statues of the 16 Arhats were made here at Tushita more than 10 years ago by Australian artist Jonathan Partridge. The original plan was to make moulds of these master statues, so that many FPMT centres could be given copies. However, there were obstacles for making these moulds in India, and the clay statues remained in storage in Lama Yeshe's Room for a few years of very wet monsoons and cold winters, which slowly damaged the beautiful art. Finally, Lama Zopa Rinpoche decided that Nalanda was a better place to make the moulds, having an arts workshop already established.
In spring 2007, thanks to the amazing efforts and perseverance of Venerable Yonten, who had come to Tushita for his Pre-Ordination Course and Gelong ordination, the statues went on their adventurous journey to Nalanda Monastery in France. After being stored there for almost 7 years, they were finally reproduced and copies offered to other FPMT centers.
Read the history of their amazing journey here: http://www.nalanda-monastery.eu/index.php/en/news-and-events/news/124-how-the-16-arhats-statues-came-to-nalanda
Nalanda Monastery has been extremely generous donating a full set of these 16 exceptional pieces of art. They are expected to arrive at Tushita this August and once here, they will be filled and painted in Tibetan style.
Lama Zopa Rinpoche has mentioned many times the great benefits of having the 16 Arhat statues. Having these statues back at Tushita will offer more opportunities for many people to create merit related to both the protection of Dharma and the flourishing of the teachings in our minds.
Lama Yeshe Statue
Lama Yeshe (Tibet, 1935 – 1984) was the founder of Tushita Meditation Centre and the FPMT (more info here: http://tushita.info/about-us/our-spiritual-guides/).
In June 2013 Lama Zopa Rinpoche told us that "the merit from creating a statue of your Guru is so great, more merit than all the Buddha statues" and that we should have a statue of Lama Yeshe here at Tushita to benefit many people.
This statue will be made in Thailand by the same artist who made already the astonishing life-like statue of Khen Rinpoche Lama Lhundrup, the previous abbot of Kopan Monastery in Nepal.
More news about these projects is coming up soon.
A Big Thank You from Tushita to all the Kind Beings who made and will make this Possible!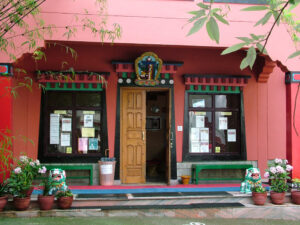 Upcoming Events
Guided Meditation on February 12, 2018 9:30 am
Movie Day on February 12, 2018 2:00 pm
Losar on February 16, 2018
Sutra of Golden Light Reading on February 16, 2018
Introduction to Buddhism on February 20, 2018
Chotrul Duchen on March 2, 2018
Medicine Buddha Puja on March 2, 2018
Introduction to Buddhism on March 8, 2018
The Buddhist Path to Healing: The Medicine Buddha Retreat on March 9, 2018
Guru Puja on March 11, 2018 6:30 pm
About Tushita
Tushita is a centre for the study and practice of Buddhism from the Tibetan Mahayana tradition. We're located in Northern India, in the forested hills above the town of McLeod Ganj, Dharamsala - the seat in exile of His Holiness the 14th Dalai Lama.
Tushita aims to provide a friendly and conducive environment for people of all nationalities and backgrounds to learn about and put into practice the teachings of the Buddha. With this in mind we offer regular drop-in events and courses on introductory Buddhist philosophy and meditation, as well as intermediate level courses and group retreats for more experienced students.
Opening Hours
February to November
Monday - Saturday
9:30 - 11:30am
a break for lunch and then...
12:30 - 4:00pm
Closed Sundays