Tushita Team on Pilgrimage to Lahaul
During the monsoon months of 2013 Lama Zopa Rinpoche, together with Serkong Tsenshab Rinpoche and Khadro la, went for a private retreat to Lahaul. This special area is also called Garsha, The Heart Land of the Dakinis. Back then Rinpoche very kindly invited the Tushita team to visit, and we had some amazing days with our gurus and visited many blessed places (see Tushita news 2013: http://tushita.info/news/volunteers-on-pilgrimage-with-lzr/)
Following that Lama Zopa Rinpoche repeatedly advised us to go on pilgrimage to Lahaul again. Of course we were more than happy to fulfill Rinpoche's wish. There was not much hardship involved in fulfilling this advice!!
So early in the year, we scheduled some time off in our busy schedule and fought hard to keep it free. A week in between residential courses was all we had, but we were determined to make the most of it.
On our pilgrimage we visited the following places:
Kora around Drilbu Ri, the Heruka mountain
Chenrezig Statue at White Chenrezig Lake (Omay Tso) near Triloknath (Phakpa)
Vajrayogini Temple in Udaipur (Markula)
Tara Temple & Palden Lhamo Waterfall near Sissu
Padmasambava caves & statue in Rewalsar (Tso Pema)
To write about these places in detail would take many pages. So here are just a few pictures to inspire you to visit these places yourself, as Lama Zopa Rinpoche has encouraged all of us to do!!
Many thanks to Kiko, our Assistant Director, who organized and guided this tour with much joy, fearlessness and patience!! Per Rinpoche's request, we eagerly await his guidebook to this area.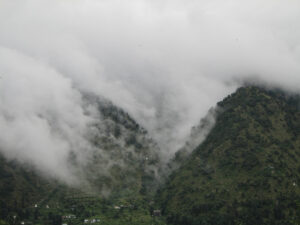 Upcoming Events
Guided Meditation on May 30, 2017 9:30 am
Movie Day on June 2, 2017 2:00 pm
Guru Puja on June 4, 2017 6:30 pm
HH the Dalai Lama public teaching on June 5, 2017 6:30 am
Saka Dawa on June 9, 2017
Medicine Buddha Puja on June 9, 2017
The Two Truths on June 14, 2017
Introduction to Buddhism on June 15, 2017
Vajrasattva Retreat on June 26, 2017
Mind and Reality on July 4, 2017
About Tushita
Tushita is a centre for the study and practice of Buddhism from the Tibetan Mahayana tradition. We're located in Northern India, in the forested hills above the town of McLeod Ganj, Dharamsala - the seat in exile of His Holiness the 14th Dalai Lama.
Tushita aims to provide a friendly and conducive environment for people of all nationalities and backgrounds to learn about and put into practice the teachings of the Buddha. With this in mind we offer regular drop-in events and courses on introductory Buddhist philosophy and meditation, as well as intermediate level courses and group retreats for more experienced students.
Opening Hours
February to November
Monday - Saturday
9:30 - 11:30am
a break for lunch and then...
12:30 - 4:00pm
Closed Sundays