Nyung Nay Retreat
May 14 – 30, 2018
Chenrezig Initiation planned for May 12 & 13, 2018 (dates are tentative)
Nyung Nay (or "Fasting Retreat" in English) is a Vajrayana practice from the Kriya ("Action") class of Tantra. It is a powerful, quick and effective method to purify a lot of negativities and at the same time collect a vast amount of merit. Meditators of the past have been known to purify such diseases as leprosy through this practice. However, the principal purpose of the practice is the attainment of supreme Enlightenment for the benefit of all living beings.
Just before the annual Tibetan festival of Saka Dawa (the anniversary of Shakyamuni Buddha's birth, enlightenment and paranirvana) Tushita offers a series of eight Nyung Nays. Participants may join one or more Nyung Nays.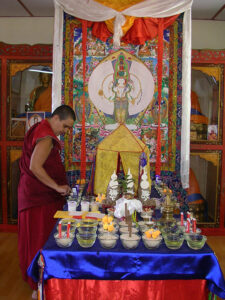 One Nyung Nay requires being resident here for 3 nights, in order to incorporate 2 full practice days. Check in on day 1, days 2 & 3 are the practice days, and if you are not continuing for another Nyung Nay, checkout is on day 4.
Each Nyung Nay consists of 7 practice sessions spread over this time, the first starting at 3:30am on day 2 (which is why you have to stay here the night before) and ending after breakfast on the 4th day. Our Nyung Nay Retreat is composed of a cycle of 8 Nyung Nays, and it is possible to take just one, or any number in between up to all 8!
If you haven't done this practice before though, you will be required to join the first one where full instruction will be given.
In each session we practice the sadhana ("method of accomplishment") of Chenrezig, the Buddha symbolizing compassion. The sadhana involves meditating on bodhicitta (the aspiration to attain enlightenment in order to help all beings), visualizing Chenrezig, reciting prayers and mantras, and performing prostrations. Each session lasts approximately 3 hours.
Requirements
You should be a Buddhist, having formally taken refuge in the Buddha, Dharma and Sangha. Those who have not formally taken refuge or who have not participated in Nyung Nay Retreat before, will need to have an interview with Tushita's Spiritual Programme Coordinator and/or the retreat leader.
You should have taken the Great 1000-Armed Chenrezig Initiation, which will require taking the Bodhisattva Vows. Tushita will try to arrange for the Chenrezig Initiation to be given by a qualified tantric master before the retreat starts. If you cannot attend this Initiation at Tushita and do not already have a Great 1000-Armed Chenrezig Initiation, to participate in this Nyung Nay Retreat, you should have received a complete initiation (wang) from one of the three higher classes of tantra, or an initiation of one of the deities of the tathagata or lotus family of Kriya Tantra.
You must be familiar with the Lam Rim (the Graduated Path to Enlightenment as presented in the Gelugpa Tibetan Buddhist tradition) and have attended at least one introductory course in Tibetan Buddhism.
You must have read all information on this website about the Retreat and agree to follow the discipline of the Retreat, including fasting, strict silence, attending all sessions, and wearing appropriate clothing (no shorts or sleeveless shirts).
If you have never done Nyung Nays before you must attend the first Nyung Nay, where all the explanations of the practice will be given.
Nyung Nay 2018 Schedule
Chenrezig Initiation planned for May 12 & 13, 2018 (dates are tentative)
| | | | |
| --- | --- | --- | --- |
| NUMBER | PRACTICE DATES | CHECK IN | CHECK OUT |
| 1 | 14 & 15 May | morning of 13 May | morning of 16 May |
| 2 | 16 & 17 May | afternoon of 15 May | morning of 18 May |
| 3 | 18 & 19 May | afternoon of 17 May | morning of 20 May |
| 4 | 20 & 21 May | afternoon of 19 May | morning of 22 May |
| 5 | 22 & 23 May | afternoon of 21 May | morning of 24 May |
| 6 | 24 & 25 May | afternoon of 23 May | morning of 26 May |
| 7 | 26 & 27 May | afternoon of 25 May | morning of 28 May |
| 8 | 28 & 29 May | afternoon of 27 May | morning of 30 May |
Participants will check in at Tushita on the afternoon before the first day of the Nyung Nay.
On the first day of the Nyung Nay, we take the 8 Mahayana Precepts: avoidance of killing, stealing, sexual activity, telling lies, taking intoxicants, eating more than one meal, singing/dancing/playing music, wearing jewelry and using high seats or beds. Three sessions of the sadhana are practised on the first day.
On the second day, we take the 8 Mahayana Precepts as above and with the additional vows of not eating, drinking or speaking for 24 hours. Three sessions of the sadhana are practised on this day. Although we vow to keep silence, we continue to recite the prayers and mantras of the sadhana. If communication between participants is necessary, it must be done through writing notes.
The second day is the most difficult part of the retreat. We experience hunger, thirst, tiredness and pain from doing prostrations. Some people feel ill from the fasting. However, if we understand the purpose of the practice, we will not mind the discomfort. By experiencing hardships in our Dharma practice, we are able to purify a great deal of our negative karma accumulated over countless previous lives. We can also build up positive habits and states of mind to counteract the negative ones. The Buddha advised the "middle way" – not too soft, not too tough. During Nyung Nays, we do experience discomfort, but it is bearable and not too tough. By experiencing this discomfort, we have a better understanding of the suffering experienced by animals, hungry ghosts, and some humans, and thus develop greater compassion for sentient beings, and greater renunciation of samsara.
What to bring
Mala to be used only for Chenrezig mantra – best is crystal (preferably in a small bag)
Vajra and Bell (only for those who have received initiation)
Mandala set (if you would like to offer during the sadhana)
Dharma book to read during break times
Many clean clothes, as Kriya Tantra emphasizes cleanliness. Clothing should be comfortable and loose-fitting, and appropriate for a semi-monastic environment (no shorts or sleeveless shirts).
Your own cup (big or medium) and thermos, if possible
If desired, additional nutritious food (such as nuts, dried fruit, energy bars) to supplement the one meal on the first day of the Nyung Nay. And any special drinks such as dehydration salts.
Pain relievers might be helpful in case of developing sore muscles from prostrating.
You can find more general advice on what to bring here.
Resource Materials
Teachings from the Nyung Nay Retreat (Audio and Unedited Transcripts)
By Kyabje Lama Zopa Rinpoche at Shakyamuni Center, Taichung, Taiwan, 2007
Teachings from the Thousand-Arm Chenrezig Retreat (Audio and Unedited Transcripts)
By Kyabje Lama Zopa Rinpoche at Chin-liang, Taichung County, Taiwan, 2001
Guidelines for Behaviour
Rules of Discipline
It is only possible to stay at Tushita if you are taking one of our residential courses/retreats or are an established Buddhist practitioner doing your own formal Buddhist retreat of a minimum of 10 days duration.
Since Tushita is a semi-monastic meditation centre and not a guesthouse, we ask all of our retreatants and visitors to observe the following rules of discipline in order to maintain an atmosphere conducive to inner reflection and meditation:
Respect all life: do not intentionally kill any living being, even small insects.
Respect others' property: do not steal or take anything not freely given.
Be honest and straightforward: do not lie or intentionally deceive others. This is easy when observing silence!
Be celibate: no sexual activity. This also includes no holding hands, hugging, massages and other physical displays of affection.
Be alert and mindful: avoid intoxicants such as alcohol, drugs and cigarettes (we encourage you to stop smoking while here, but if this is impossible, one can smoke at a designated place within the centre boundary).
Be considerate of others' silence: keep silence in the appropriate areas and at all times during residential courses, especially in the Gompa and the dormitories. No singing or playing music and in general, maintain a quiet demeanor while on the property.
Be considerate of the monks and nuns: dress respectfully (please no shorts above the knee, tank-top shirts or tight and revealing clothing).
Basic Retreat Discipline
In order to keep the atmosphere conducive to inner reflection and spiritual pursuit and to minimise distractions during the course, students on our residential courses and retreats are asked to abide by our basic code of discipline listed below.
Please settle all outside communication before the course begins. Telling friends and family that you will be out of contact for the duration of the course and sticking by that decision significantly reduces distraction from investigation into the workings of your own mind! Likewise, please settle your travel arrangements etc before you come to Tushita!
You are expected to observe silence (no talking at all) from the evening of the first day until the end of the course.
Do not leave Tushita property for the entire course.
Participants must attend all sessions of the course and come to sessions on time.
Please put all communication / entertainment devices (laptop / mobile phones /cameras / MP3/CD players) etc into our safe at check-in.
Please be gentle in your behaviour and sensitive to fellow group members.
Gompa Etiquette
"Gompa" is a Tibetan word which we use for 
Meditation Hall
. Because a Gompa is the location of study, meditation and devotional practices, Buddhists consider them to be holy places. In this tradition, the following modes of behaviour are considered respectful in a Gompa and we ask you to follow them while here:
Do not point your feet towards the teachers, the altar or any holy object.
Do not put Dharma materials – prayer books, texts, Dharma books or notebooks with Dharma in them – on the floor, or sit or step over them.
Do not lie down or do any yoga exercises in the Gompa at any time.
No idle chit-chat in the Gompa (ie. You can ask the teacher questions during class, but do not talk with other students).
Registration
Register Online
You can register by filling out our online form.
Please make sure you have read the information on this page first.
Upcoming Events
Guided Meditation on February 12, 2018 9:30 am
Movie Day on February 12, 2018 2:00 pm
Losar on February 16, 2018
Sutra of Golden Light Reading on February 16, 2018
Introduction to Buddhism on February 20, 2018
Chotrul Duchen on March 2, 2018
Medicine Buddha Puja on March 2, 2018
Introduction to Buddhism on March 8, 2018
The Buddhist Path to Healing: The Medicine Buddha Retreat on March 9, 2018
Guru Puja on March 11, 2018 6:30 pm
About Tushita
Tushita is a centre for the study and practice of Buddhism from the Tibetan Mahayana tradition. We're located in Northern India, in the forested hills above the town of McLeod Ganj, Dharamsala - the seat in exile of His Holiness the 14th Dalai Lama.
Tushita aims to provide a friendly and conducive environment for people of all nationalities and backgrounds to learn about and put into practice the teachings of the Buddha. With this in mind we offer regular drop-in events and courses on introductory Buddhist philosophy and meditation, as well as intermediate level courses and group retreats for more experienced students.
Opening Hours
February to November
Monday - Saturday
9:30 - 11:30am
a break for lunch and then...
12:30 - 4:00pm
Closed Sundays